On Friday, March 17 bright sunshine streamed into the atrium of Beppu B-con Plaza, as over 1,000 students, family and friends gathered for APU's Spring Graduation Ceremony. Milling around, adjusting gowns and mortar boards - the mood was buoyant to say the least. For 604 students, the day was a culmination for many, of four years of study, adventure, travel, new experiences and many late nights of study!Almost a third of the graduates (172 students) were international students from 30 different countries and regions and many chose to wear traditional clothes such as saris, satin china dresses and ch'ima-chogoris. Of the 432 domestic students many also chose to wear traditional hakama and kimonos filling the plaza with lots of color and style.
Greetings were given by the Chancellor of Ritsumeikan University, Mr. NAGATA ToyoOmi and APU President, Mr. Monte CASSIM who said, "Since its inauguration, APU has worked to foster a multicultural and multilingual campus; a place that uses both Japanese and English to cultivate analytical and inquisitive minds that can confidently navigate the challenges of the 21st century." He added, "We are proud of your achievements today and toast to your success in the years ahead."
The Ando Momofuku Honor Scholarship recipient Ms. Priya Dugar (APM, India) in her speech on behalf of the graduate representatives said, "APU brings people from all over the world to Beppu where we learn about each others' culture and broaden our horizon. This network we have created has infinite possibilities and we should cherish all that we have gained here."
Mr. SCUMPIERU Mihai (GSA-ICP, Romania) also gave a speech on behalf of the graduating students and quoted the German poet and natural philosopher Johann Woofgang von Goethe who said: "Dream no small dreams for they have no power to move the hearts of men." He added, "In the same spirit, let us take our destiny into our own hands and not indulge ourselves in mediocrity, let us aim high in life and have confidence in ourselves, for it is the small contribution if each of us that will change the world."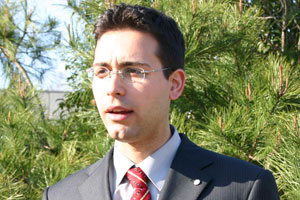 After the ceremony, Spotlight had the opportunity to interview Mihai who reflected on his time at APU. After finding out about APU through the Romanian Embassy in Japan, Mihai commenced his undergraduate studies in APU's inaugural year and upon graduating entered into the Graduate School of Asia Pacific Studies and majored in International Cooperation Policy. With a diploma from a High School in Tokyo under his belt, Mihai enrolled as an English student and was exempted from taking Japanese language classes.
Mihai commented, "I had a head start with Japanese and was able to concentrate on my environmental studies. I pursued various extra-curricular activities including getting involved with the United Nations circle and made sure I made the most of my time in Beppu City. I will never forget playing sports in the gym, cooking with friends, staying-up late playing games and studying with friends in AP House. I am looking forward to the next step - working for a major Japanese company in Germany and anticipate that I will be able to draw on my studies and through my job occasionally come back to Japan as the headquarters are in Osaka. To me APU always be the "castle in the hills" and I trust it will continue to evolve as a great university in Japan."
The Graduation Ceremony concluded with the graduates tossing their caps high into the air of the auditorium. It was a big day in their lives and represented the beginning of a new chapter.
On Saturday, April 1 APU is looking forward to welcoming 1,041 new students at the Entrance Ceremony at Beppu B-con Plaza.