The APU Olympics was held on Sunday, July 2, 2006 from 1 o'clock on the grounds of APU.The purpose of the annual APU Olympics is to help form strong friendships and further communication among new enrollees, international students and Japanese students at APU.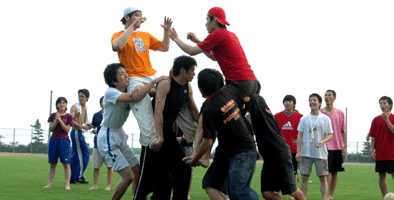 Students were divided into two teams - either the Red Team led by UENISHI Takahiro (APS 1, Japan) and GE TIANYI (APM 2, China) or the White Team led by TANABE Genta (APM 2, Japan) and Shu Yu Hui (APS 2, China). Traditional APU Olympics games took place including Pulling Bamboo and Tire, Steeplechase, Piggyback Fight, Eyes of Hurricane, Circle Battle Relay and the World Cup Relay, which is unique to APU. In addition, two new games were included this year - Spin and Shot, and Run and Rope War. A cheerleader performance was also included in the program.
What's more, five APU clubs participated in the sports festival. These included the Double-Dutch Club, APU Cheerleading Club LILIES, Rugby Club, Women's Lacrosse Club Mariquita, Wadaiko "Raku" and APU Wind Orchestra.
The Physical Education Committee is in charge of planning and administering the APU Olympics every year. The committee members worked hard to prepare for this exciting event, and encouraged not only APU students, but Beppu City residents to participate in the sport's day.