On Thursday, April 1, 2021, the Spring Entrance Ceremony was held at B-con Plaza in Beppu City, welcoming 983 new students into the APU family. As a measure against the spread of coronavirus infection, the ceremony was split into two separate parts in a hybrid format that allowed both in-person and online participation. Families and friends of new students joined in this joyous occasion via Facebook and YouTube livestreams.
This spring the university greets 866 undergraduate students (660 domestic and 206 international), 33 graduate students (all international) and 84 short-term, exchange, and part-time students (40 domestic and 44 international). These individuals hail from 50 different countries and regions, including Japan. (as of March 25, 2021)
Vice President Hiroshi Yoneyama welcomed these entrants and offered encouragement:
"Congratulations on your admission to APU. I would like to extend a wholehearted welcome on behalf of everyone at APU. I also would like to extend my heartfelt greetings to your family members. This spring, APU is happy to welcome 983 incoming students, thus bringing the total number of students enrolled at the university to 5,766, 2,660 of which are international students and 3,106 are domestic students. A total of 90 countries and regions are represented by the international student body at APU. There may be nearly 800 universities in Japan, but not one of them can compare to APU in terms of the number of countries and regions represented on campus. Our domestic students are also diverse, hailing from every prefecture of Japan. At APU, not only will you study with students from all over the world, you will live with them in APU House and participate in club activities together. Through this and your interactions with older students and alumni around the world during your time here you will encounter different cultures and values and deepen your knowledge as you develop character and make friendships that will last a lifetime. At APU."
―――Click here for the Vice President's full speech.―――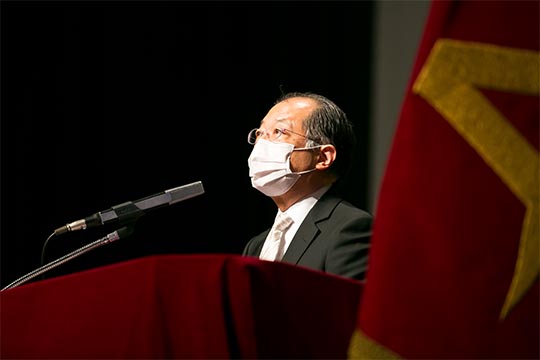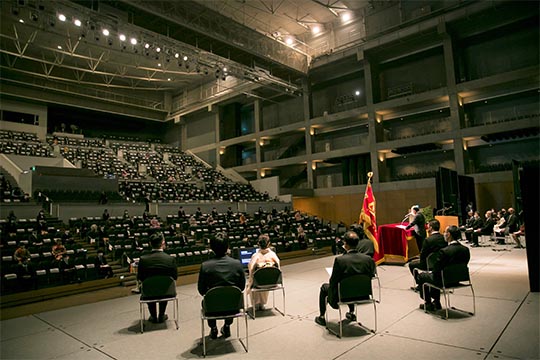 In addition to the Vice President, a total of 6 students addressed the new students both in person and through video. In the first part of the ceremony, representing current students, Fuga Kamiura (APS, College of Asia Pacific Studies 4th year) greeted the new students with tales of his fulfilling college life, participating in Academic Camp and Model UN and all the while studying international law.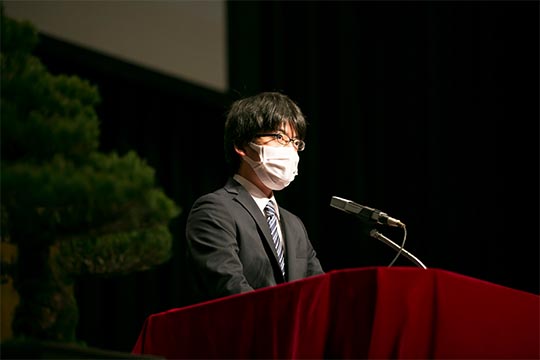 There were also video recordings of speeches from 2 representatives of the entering students during this portion. Ahona Paramoita Khan (College of Asia Pacific Studies, Bangladesh) while expressing her gratitude to be able to continue her education despite the pandemic, called for fellow students to respect one another as they further their education. Next, Wei Chieh Tsai (Graduate School of Asia Pacific Studies, Canada) touched on how the pandemic has exacerbated social inequalities, and urged students to use what they learn at APU to bring forth a more just society.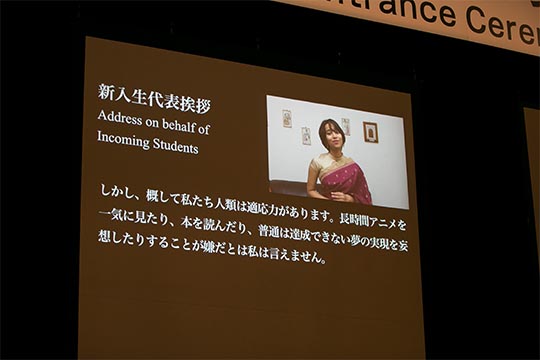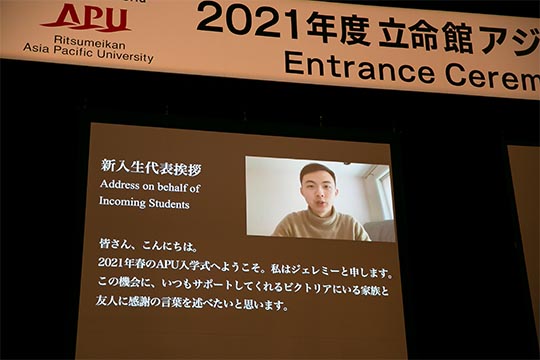 In the second part of the ceremony, Vionita Suryaijaya (College of International Management 3rd year, Indonesia) greeted newcomers on behalf of current students. She talked of her experience being part of student groups as well as how she found her dream by engaging in class content before encouraging her audience to keep challenging themselves in spite of failure. Quoting Margaret Atwood, she told them, "Do it, do it more, do it better. Fail, fail better."·
Then, it was Manami Shitaya (College of International Management) who gave her address on behalf of the new students, who, she pointed out, experienced not only COVID-19 but many unforeseen changes, including Japan's switch from University Entrance Examination Center Test to the new Common Test for University Admissions. She stated with gratitude that she intends to look at whatever happens from here on in a positive light and take on many challenges at APU. Lastly, representing new graduate students in her video, Mahnoor Shaukat (Graduate School of Management, Pakistan) expressed her dream to study in Japan at APU and told students how they can make great memories and friends, gain knowledge and grow as a person as long as they have courage to take the first step and say, "konnichiwa."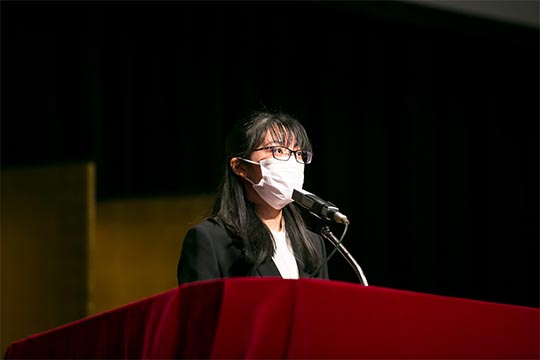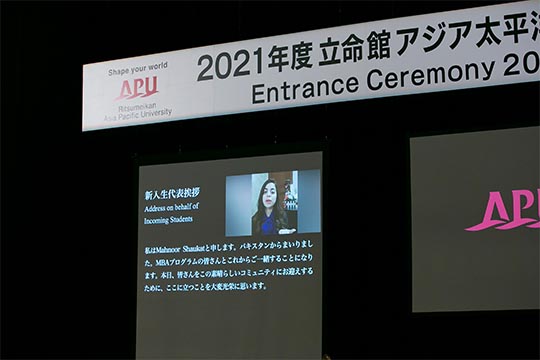 To watch the Graduation Ceremony previously recorded on Facebook Live, please visit the following link
https://fb.watch/4S1jamn907/