On February 18, 2022, APU and Fundokin (an Oita-based seasoning maker) presented to the public their new collaboration product: Wellness Support Fruit Dressings.
This joint development was realized with the cooperation of Oita Bank under a mutual cooperation agreement signed with Fundokin Shoyu Co., Ltd. (Fundokin), a long-established seasoning maker in Oita Prefecture, and Inspire Co., Ltd. in 2017. This is the second time APU students have collaborated in product development with the companies since the Halal-Certified Honey Soy Sauce released in 2019.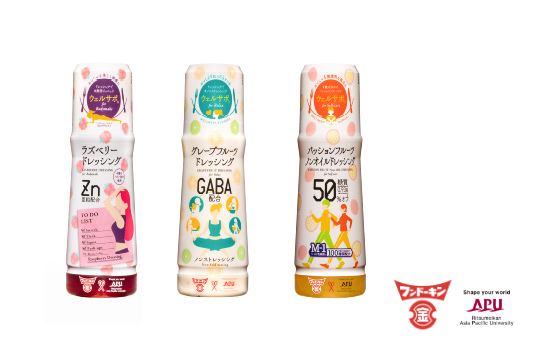 The dressings come in three flavors: raspberry, which has a fresh taste and goes well with lean meat; grapefruit, which goes well with fried foods; and passion fruit, a rare flavor in Japan, made with no oil and 50% less sugar. The product unveiling was held at OITA MIDTOWN Studio in Oita City. As representatives of the student development team, Nagisa Shimanaka (College of International Management 4th year student) and Ai Suzuki (4th year student of the College of Asia Pacific Studies) presented the concept of the product, their thoughts on development, and the development process.
A total of 10 APS and APM students from 6 different countries, Japan, South Korea, Indonesia, Sri Lanka, Bangladesh, and Morocco, participated in the project as members of the development team. They started to create the concept in January 2020, and have been holding online meetings as in-person meetings could not be realized due to COVID-19. Suzuki recalls that it was not easy to put together a concept with colleagues from differing food cultures and lifestyles even for APU students, who are accustomed to group work with multicultural members.
The development team arrived at their concept by considering data that fruit intake is relatively low in Japan as well as the increased demand for health-conscious products due to the pandemic. The result was making dressings that made it easier and healthier than ever to get fruit intake in the hopes to make people happy and healthy even under the pandemic. After the concept was decided on, the team spent another year on taste trials and package design, resulting in three types of fruit dressings for various age groups.
While studying sociology of culture, Suzuki realized "There are various social problems in modern society, not just those caused by COVID-19. We wanted to take this opportunity to help people lead a healthier and happier life through food." Shimanaka added, "The development period was really hard during pandemic. We want people to be aware of their health even after COIVD-19. Personally, I was most particular about the design of the package."
Satomi Aso of Fundokin, who managed the student development team, said, "The concept was well created, so making the taste went smoothly. The process was done by mailing prototypes and having students taste them by themselves and give feedback online. While it was hard to understand each other remotely, the students did their best." He stressed the difficulties of development during the pandemic, "It was a development that required the team put a lot of energy into communication. "
The product went on sale at Oita Bank Red Brick Building (In-store and online) and EC site of Fundokin, and is scheduled to start selling at stores nationwide (suggested retail price of 370 yen, excluding tax).
Next year, we will continue to carry out such collaborations under mutual cooperation agreements with the aim of practical student learning.