On Friday, March 18, 2022, this year's Spring Graduation Ceremony was held. As an infection prevention measure against COVID-19, the ceremony was held in a hybrid format with both in-person and online attendance.
This time, a total of 728 undergraduate and graduate students (190 international students from 23 countries and regions in addition to 538 domestic students) completed their degrees. About 90% of the graduates and their guardians attended in person at Beppu City's B-Con Plaza. The remaining 10% of graduates participated over Zoom while other family members and friends joined in on YouTube and Facebook livestreams.
At the ceremony, Vice President Hiroshi Yoneyama gave the following message to the graduates:
I would like to congratulate all the APS and APM students as well as the GSA and GSM students on your graduation. In the last half of your time at APU, we witnessed a global pandemic—a rare occurrence in human history. Everyone participating today, whether that be in Beppu or online, has faced many inconveniences and anxieties, but you were able to continue your studies at APU while connecting with your friends scattered around the world, and you provided each other with encouragement as you headed towards graduation. I have nothing but the deepest respect for your resilience, or in other words, your ability to withstand adversity.
Today is the day when you stop being APU students and become APU alumni. Your activities as alumni will serve to enrich APU as a university, and this process of enrichment will, in turn, support your career development. In this sense, you will all remain members of the APU family.
――― You can read the full version of Vice President Yoneyama's message here.―――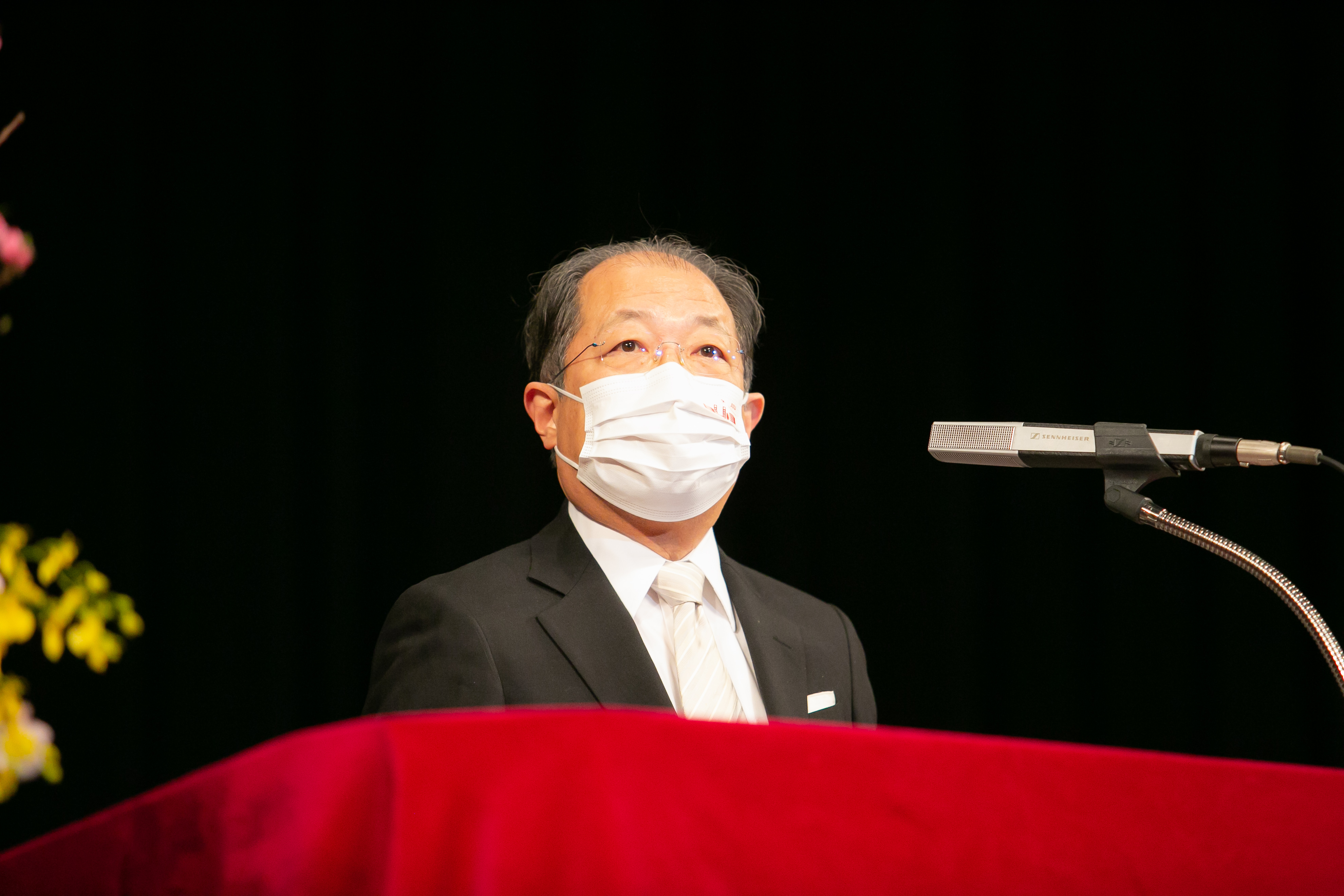 Representing the undergraduate class, this year's Ando Momofuku Award-winner Hikari Furukawa (College of Asia Pacific Studies) said:
When I think back on my four years at APU, so many great memories pop into my head. It was the spring of my first year when I first stepped foot in AP House. I was anxious about whether I would be able to acclimate to a completely new environment. And before I realized it, I was surrounded by great friends who I could confide in about anything.
In my second year, …I saved up my money and traveled around Japan and overseas. The process of learning new things was full of surprises, and it made me realize that there is more than one way to look at things.
As I entered my third year, I was determined to have a lot of fun again, but my hopes were dashed by the coronavirus. If you change your perspective, however, you can see that with tough times come opportunity, so I decided to do whatever I could, given the situation. This is when I came up with the idea for a supermarket with no price tags that aimed to solve the problems of food poverty and food loss at the same time. I am happy that the Amairo Shoten, which I was finally able to realize, has given me the opportunity to change people's awareness of social issues that exist around them, and that it is always full of smiling faces. People often ask me why I work so hard, and I tell them that the biggest thing driving me is my desire to create a society where everyone can be happy. When I heard the story of my friend who came from a region where there is constant conflict, a distant world suddenly became relevant to me. Then, when I learned that there were people in Beppu who were just barely scraping by, I felt that I should not spend my time thinking that other people's problems are not my own. That is why I am always inspired by the strong sense that, once I notice a problem, the world will remain unchanged unless I take action. That's why, no matter how hard things get, I hope you will keep believing that your dreams will come true. Even if the first step you take is a small one, if you never stop moving forward, you will always be able to change the world. This is what I learned from everyone at APU. Lastly, to my friends who laughed with me every day, even about the little things, congratulations on your graduation! I look forward to seeing you again someday, somewhere in the world.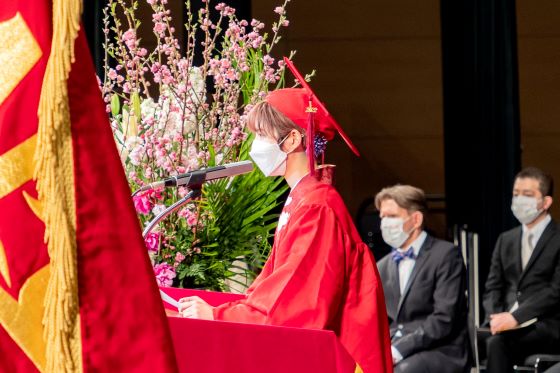 Then, representing the graduate students, Khan Md Imdad Hossain (Graduate School of International Management, Bangladesh) addressed the audience:
24 months have passed, and it feels like yesterday that we took the most important decision of our life within the time of PANDEMIC. We never stopped learning, making friends, and supporting each other in this tempestuous time. We learned and become better educated in a new way but still, it was in global standard. Our eyes were tired because of long hours and all those screens but we submitted all our deliverables on time and most importantly our research paper. We have passed and we did it together. We shall be proud of ourselves. PLEASE GIVE A HUGE ROUND OF APPLAUSE to appreciate this achievement.
We are far more equipped, better cognizant and we have each fostered our reserve of knowledge against what's to come. We are more resilient, adaptable, empathetic, and flexible than before. We are mentally stronger than ever. In the past two years, we have transmuted personally and professionally, and without a doubt, our APU has been instrumental in this process. I want to give a heartfelt thank you to our parents, families, and professors. Thank you for believing in us and allowing us to live this wonderful dream.
From now on we might work on a different path but no matter where we are, we are part of a global network called APU ALUMNI. A group of people shares so many things in common but most importantly we all grew in APU. In a time of new normal let us continue to be connected and support each other's endeavors. Again, CONGRATULATIONS TO ALL NEW GRADUATES. STAY SAFE, STRONG, AND HAPPY.
You can watch the full ceremony at the YouTube link below.
https://youtu.be/wJfiJn-bdEc