On Friday, July 21, APU had the pleasure of receiving a lecture by Dr. ITO Takatoshi, professor of the University of Tokyo Graduate School of Economics.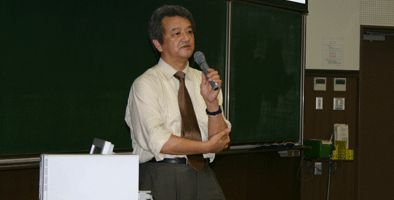 A former assistant vice minister within the Ministry of Finance, Dr. Ito is active internationally concerning the issues of international finance, Asian integration, and Japanese finance and economy.
In his lecture entitled, "Global Imbalances and the Roles of Japan, China, and Asia," Dr. Ito gave insight regarding the reasons for current account imbalances between the United States and Asian countries, most notably China. He described how large accumulations of foreign exchange reserves in Asia, mainly in the form of US Treasury bonds, affect international trade and exchange rates. He concluded by proposing several measures, including exchange rate adjustments and political responses, which can be taken to correct the imbalances.
Dr. Ito's stimulating lecture was well received by the approximately sixty-five undergraduate and graduate students in attendance. It was followed by an engaging question and answer session.