On September 14th, 2006 (Thursday), the 2006 Fall Semester RA Inaugural Ceremony was held.RA, or resident assistant for short, is a special kind of student residing in AP House who support the dormitory students in their daily lives and under cooperation with the university.
The role of the RA is to help international students, who have come to Japan for the first time, to adapt to Japanese lifestyle, provide a positive example of how to live in the dormitory, and to encourage mutual exchange. Specifically, they provide a pick-up service in which they acquire students at the bus stop near the campus and welcome them on getting accepted to APU, organize the welcome party, end of the year party, and other similar events. They also perform a wide variety of activities on their individual floor such as get-together events and so on.
There are about 45 residents living on each floor of AP House, and each floor has an international and domestic RA pair living on it. On each floor, international students seek advice on how to study Japanese and seek information on figuring out how to connect to the Internet, and so on. Most of these questions are answered by the RAs who are usually sought for advice till the middle of the night.
RA leader, Mr. Dai Yamamoto had this to say during his interview. "Because I wanted to live in AP House, an environment where international mutual exchange is a common occurrence, I entered APU and became a RA. At first, counseling questions from residents was a difficult task, but after answering these questions, breaking the ice and becoming friends, being an RA is a pleasant and wonderful experience."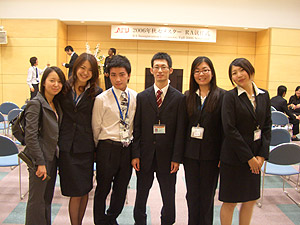 Mr. YAMAMOTO Dai is the third person from the right.
The 53 RAs who went through the document screening process and interview set by the university will do their best in the 2006 Fall semester. They completed a 5 day RA camp which started on September 8th, and will be active until the end of the 2006 Fall semester at AP House.