From September 11 – 20 2006, APU registered student group PRENGO sent a Summer Survey Team to Thailand.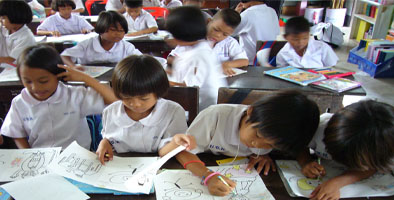 Upon arrival in Thailand, participating PRENGO members divided into two groups. The first group, the "field survey team" conducted surveys in regions receiving aid and gathered information, while the second group investigated pottery in Chiang Mai.
The field survey team created a comprehensive map of the aid region, making special note of resources (people and things) and unique characteristics to the area.
In the past, because we did not have the necessary information about the region's characteristics and its people, it was extremely difficult to come up with strategies to approach and get acquainted with the local inhabitants. However, through this survey we were able to make several discoveries that will most definitely be useful for our efforts in the future.
The field survey team also did presentations about making soap and "Thai pants" as a product of the OTOP scheme, and held a party, an opinion exchange session as well as various recreation activities for the locals.
The second group was accompanied to Chiang Mai by Mr. and Mrs. Kawarabata. Mr. Kawarabata is a pottery expert based in Oita City, while his wife Michiyo is an expert in "Sadou", or traditional Japanese tea ceremony. PRENGO's goal of regional development through local produce was in line with Mr. Kawarabata's sentiments, thus allowing for this observational visit to related facilities in order to learn about pottery in Thailand.
In addition, Mr. and Mrs. Kawarabata held a Pottery and Tea Ceremony workshop for the pottery class at the Faculty of Arts at Chiang Mai University located in Chiang Mai prefecture in northern Thailand. Through this they introduced to the students, the deep connection between pottery and tea within Japanese culture. The equipment required for the Japanese tea ceremony workshop was supplied courtesy of the Japanese Consulate in Chiang Mai.
We at PRENGO will continue our efforts to improve our activities.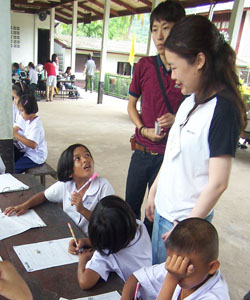 Detailed information about PRENGO's trip to Thailand can be found on our homepage under the "Local Support" column.
https://www.apu.ac.jp/circle/prengo/index_e.html