The Beppu Town Planning Promotion Committee held the 2nd Sento Taisai Festival on November 11th and 12th. "The Beppu Town Planning Promotion Committee" was established in November 2003 with the aim of contributing to the development of a more prosperous and positive community in Beppu. The Sento Taisai festival was created for the same purpose and to foster appreciation for the beautiful scenery and abundant natural hot spring resources in Beppu city. Over the course of two days the festival winded its way from Hachiman Asami Shrine to the eight meeting points that constitute Beppu's eight hot spring areas and featured various events such as marching bands, parades, portable shrines and dancing. On the 12th, night markets, a rice cake making festival and other performances were carried out at the Asami Shrine which saw the conclusion of the festival.
Creating personal connections amongst people of different regions and generations and generating pride and love of one's hometown are the main themes of the festival. The Beppu Town Planning Promotion Committee plans to continue to use festivals as a key instrument in developing community spirit.
"The 2nd Sento Taisai Festival"
Organizers: APU students group "The Beppu Town Planning Promotion Committee"and Beppu citizens
Date: Nov 11th & 12th, 2006
Place: Asami Shrine and the 8 main onsen areas of Beppu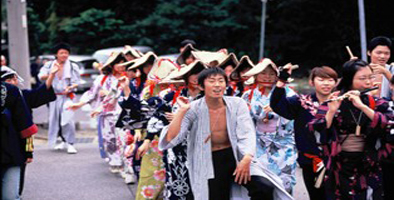 Please click
here
for more details.