As of late, there has been a rising national concern towards traffic safety which reflects in the various traffic accidents and incidents.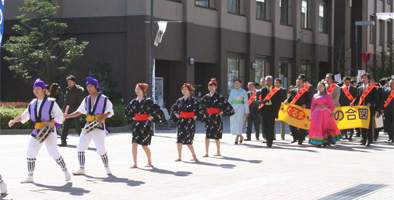 At APU, the Traffic Safety Campaign was held with prevention being the main focus, in order to raise the level of awareness towards traffic safety of the students, faculty, and staff. The Campaign was organized with the cooperation of the Oita prefecture Beppu city Police Department.
On Wednesday, November 8th at noon, the march began across campus with the president leading a group of students, faculty, and staff members. The march with APU EISA organization leading the way with a performance finished in front of the fountain where a special stage was constructed. After the performance which concluded at the stage, the vice-president presented startling news to those gathered that in the previous day a student had passed away in a traffic accident. There was a moment of silent meditation for the student, who had lost his life, and the president as well as a police office of Beppu station made a heartfelt appeal towards traffic safety.
In a combined effort, students from ASCA and OASIS as well as students who planned and are hosting Mongolian Week helped to promote traffic safety inside and outside the University. Students were dressed in traditional Mongolian attire, and there was a splendid, traditional dance as well.
To wrap things up, students were able to get a hand-on experience of different driving scenarios by trying out a driving simulator offered by Oita prefecture police and a seat belt impact test simulator offered by the Japanese Automobile Federation (JAF).