What is the "APU Student & Alumni Association?"
APU's Alumni Society,"The APU Student & Alumni Association"was established in March 2003 to foster and promote a network between APU graduates (including all students who have attended APU), current students, and APU faculty and staff (including retirees).The Association organizes a range of activities including an Alumni Convention; a Welcome Party for Alumni which coincides with the Graduation Ceremony; various regional events in areas such as Kansai and Kanto; and a Dream Support Project aimed at helping third-year students work towards fulfilling their future plans. The Association's mantra is "Keeping the APU Community Connected."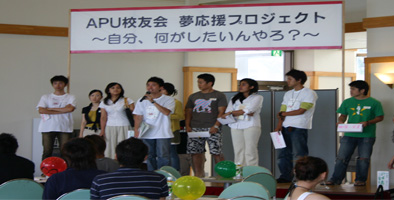 Activities of the APU Student & Alumni Association
The APU Student & Alumni Association plays a prominent role in promoting vibrant exchange with its graduates and students currently studying at APU. Support is provided to the student umbrella of the Association, the APU Alumni Committee, which plans and executes various events including the Dream Support Project and Alumni Welcome parties. It also works with non committee-members including current students to promote the activities of the Alumni Association.
From January 15th to January 26th, an Alumni promotion booth was set-up in the APU Cafeteria. Over 2-weeks, students scheduled to graduate were informed on how to register their details, and current students could find out about services accessible on the Alumni website. The booth also served to promote the Alumni Welcome Party to be held on the day of the Graduation Ceremony in March.
The incoming student head of the APU Alumni Committee, Ms. OOISHI Minako (APS2) said, "Through the booths, I feel that we were able to increase awareness of the APU Alumni Association and its services and activities. Our goal is to make sure all current students know of the Association. We would like to hold events to help current students and graduates feel connected with each other."
Students who are scheduled to graduate in March but have not yet registered their details with the Alumni Association, upon graduation will no longer be able to receive information from APU. We therefore, encourage students to register their contact details today. Please refer to campus terminal for specific details.
We also encourage graduates who are not currently receiving the APU Alumni e-Newsletter to send their name and graduation year to the Alumni Secretariat outlined below.
APU Alumni Secretariat
People in Charge: Ms. FURUKAWA & Ms. ABE
E-mail:
ml-apu-alumni@apu.ac.jp
APU Student & Alumni Association Website:
https://www.apu.ac.jp/alumni/index.php?lang=english