A relationship of cooperation between Hiji City and APU was formalized on February 22nd, with the signing of a Friendship and Exchange Agreement at Ritsumeikan Asia Pacific University.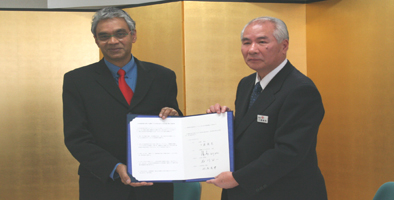 During the ceremony, APU President Monte CASSIM said, "Through this agreement we hope to build upon what we have already achieved and to carry out various forms of exchange drawing on our resources as an educational institution. With Hiji, a nature-attuned town with deep historical and cultural heritage as the setting, we would like to make into reality a new educational program encompassing the fields of environment, health and life".
Afterwards, Mayor of Hiji Town, Mr. KUDO Yoshimi in his address said he expected the relationship between Hiji Town and APU to flourish. "APU's support and cooperation will be necessary for the development of Hiji Town. I want to revitalize the town promoting its natural aspects, and continue expanding opportunities for international exchange and deepening ties with APU."
After the mayor's speech, Mayor Kudo, President Cassim, Deputy Governor of Oita Prefecture ISHIKAWA Koichi (witness) and Chairman SATO Katsuyuki signed the friendship and exchange agreement. On signing the agreement, Vice Governor, ISHIKAWA said, "I expect that the rich exchange between Hiji Town and APU will contribute to the internationalization of Oita Prefecture". The signing ceremony was concluded with the exchanging of gifts between the signatories.
APU is an educational and research institution whose aim is to foster internally-minded individuals. Hiji, on the other hand, is a town striving to revitalize itself through adopting new methods of enhancing its regional, tourism and cultural assets. Through holding various exchange events in the region, the two parties hope to build deep and lasting relationship that will be beneficial for all involved.