On Friday, March 16th, APU celebrated its 2007 Spring Graduation Ceremony.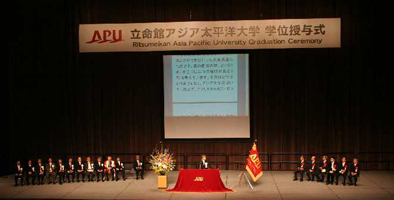 Over 1,200 students, family and friends mingled in the atrium of Beppu B-con Plaza before the start of the ceremony. The mood was happy to say the least with students adjusting gowns and mortar boards, taking commemorative photos, chatting with faculty and reminiscing about their days at APU. For over 652 students from 31 different countries and regions, the day represented a significant point in their lives with one chapter closing and another exciting one about to unfold.
APU President, Mr. Monte CASSIM encouraged the new graduates in his greeting:
"As you, the graduates of Spring 2007 make this transition from adolescence to adulthood, from one stage of life to another, we pray for your success in your own individual quests. You will face various hurdles along the way. But these can be overcome as long as you remember to draw courage and strength from the friendship and collegiality you experienced at this multicultural campus."
The Ando Momofuku Honor Scholarship recipient Ms. PEARCE, Kylie F. (APS, Australia) in her representative speech on behalf of the graduates said:
"Our experience at APU has shaped us into people prepared to take risks for an adventure, take initiatives to develop the structure we study or work in, and to get out into the world and be confident of our abilities to fit in, accept and be accepted."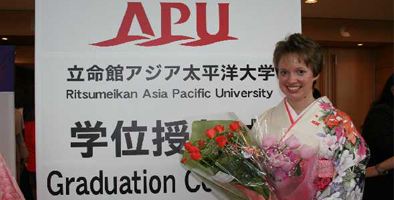 Afterwards, graduate school representative Ms. WACHOWSKI Cindy Lyn (GSA-ICP, U.S.A) shared her passion in a speech:
"Don't think, even for one minute, that you cannot achieve your dreams, whatever they may be...Don't be limited by fear or hesitation in the pursuit of your dreams, especially now that you are APU graduates and are charged with the task of creating a world imbued with freedom, peace, and humanity."
The Spring Graduation Ceremony concluded with the graduates tossing their caps high into the air of the auditorium. It was a big day in their lives and represented the beginning of a new chapter.
Around 1,100 students are set to commence their studies this Spring at APU and will be formally welcomed at APU's Entrance Ceremony at Beppu B-con Plaza on Sunday, April 1st.