A Dedication Ceremony for the newly completed buildings conceived as part of APU's New Challenge project was carried out inside the new multipurpose hall of the Student Union II building on Monday, March 19th.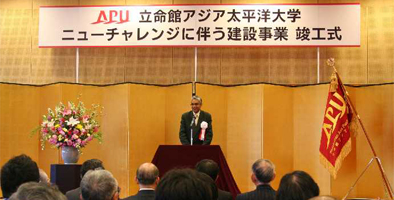 In a short address, the Chairman of The Board of Trustees, Mr. Nagata and APU President Cassim stated "Our goal is to further build on APU's unique international environment and to increase its appeal on the international stage. To achieve this, we have established five new institutes that will form the pillars for reforms in education and research. Furthermore, we will take full advantage of the newly completed facilities that were established to cater for the increase in the intake of students."
Among the distinguished guests present was the Deputy Governor of Oita, Mr. Ishikawa and Deputy Mayor of Beppu, Mr. Hayashi, who commented "Since inception, APU has received recognition for its significant contribution to internationalizing Beppu City and Oita Prefecture. I expect that with the completion of the new buildings, APU will further contribute to the internationalization of the region".
The Dedication Ceremony concluded with Chairman of the Board of Trustees, Mr. Nagata expressing his sincere thanks to the various companies that have assisted with the construction of the buildings. A certificate of appreciation and a small gift was presented to each of the parties.
Mr. Kitahara, President of Japan Student Services Organization (JASSO), representatives from supporting organizations and companies, and officials from Ritsumeikan Academy attended the ceremony and expressed their excitement at the completion of the new buildings and the roles that they will play towards a prosperous future for APU.
The Dedication Ceremony officially came to a close following the inspection of the new buildings by the attendees.
Please click
here
for the new campus map which introduces the new buildings at APU.