On March 30th 2007, APU signed an Agreement of Cooperation with the University of Botswana.This marks the third university among African universities to conclude an Agreement of Cooperation with APU. Professor B.K. Otlhogile (Vice-Chancellor), Professor John Holm (Director, International Education and Partnerships) from the University of Botswana, Mr. Sello Motlhabane (First Secretary, Embassy of Botswana in Japan) and APU President Cassim witnessed the signing ceremony.
The discussion for future collaboration was focused in the areas of Tourism, e-Governance and Health Management.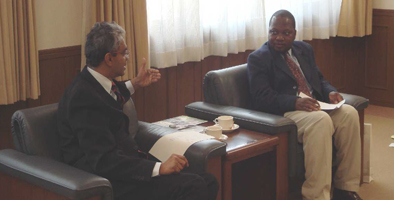 The University of Botswana was founded in 1982. The main campus is located in the capital city, Ganorone. The University accommodates approximately 15,700 students and consists of 6 Faculties, 1 Graduate School and various research centers.
With the binding of this Agreement, the total number of partner universities of APU increases to 267 universities in 54 countries and regions.