Approximately 100 students from APU took part in the "East Asia Senior Leaders' Forum" held at the Fukuoka Convention Center in Fukuoka on March 31st, 2007.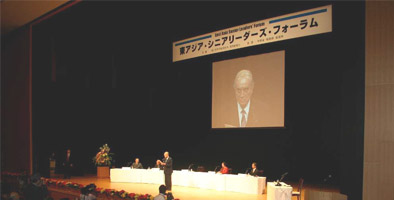 The aim of the forum was to provide a platform for five prominent leaders from East Asia to discuss issues relating to the future of the region. One hundred APU students were invited to the conference by the Yomiuri Shimbun, one of the organizers of the event.
The guests listed below were invited to deliver keynote addresses. They also formed a panel and discussed a wide range of issues relating to regional cooperation and safety within the East Asian region. Over 1000 students including those from APU listened attentively to the animated exchange of opinions between the regional leaders.
-Mr. NAKASONE Yasuhiro, Former Prime Minister of Japan
-Ms. Megawati Soekarnoputri, Former President of Indonesia
-Mr. Kim Jong Pil, Former Prime Minister of the Republic of Korea
-Mr. Fidel Ramos,Former President of the Republic of the Philippines
-Mr. Chuan Leekpai, Former Prime Minister of the Kingdom of Thailand
Following the panel discussion, members of the audience were given the opportunity to ask the speakers some questions. QIN Sian (APM1, China) asked the panel what they considered to be the most important theme for promoting regional cooperation in Asia. The panelists responded frankly and expressed that cooperation is vital and that some sacrifices will be required to ensure mutual prosperity is achieved within the region. They also expressed that it will be their generation of young people that need to acquire international awareness and extend the hand of friendship across borders.
Comment from Ms. TSUJIOKA Aya (APS4, Japan) one of the APU participants:
When the Former President of the Philippines asked us to shake hands with the people to the left and right of us, I became aware of who was sitting around me. Having a Japanese student on one side and an Indonesian student on the other - I thought it was just like being on the multicultural campus at APU. Listening to the panelist's speeches on the theme "Let's Create a United Asia!" got me thinking. I realized something was indeed different. It dawned on me that in the future I might be working side by side with the Indonesian student to unite Asia, while the Japanese student might one day become a leader of the leading economy in Asia. They both would be my allies in seeing the unification of Asia come to fruition.