Two students from APU, Le Hoang Anh Thu (GSAM-APS2, Vietnam) and JERASAKANON Fundow Jerasakanon (APM4, Thailand) participated in the "Asia Pacific Youth Forum" held in Kyoto, Japan from March 11-17, 2007.The Forum was organized by the Asian Development Bank (ADB) in cooperation with the Road of Asian Development (ROAD) (A network of Japanese University students). It is a lead-up event to the 40th Annual Meeting of the ADB's Board of Governors that will take place in Kyoto in early May of this year.
As a lead-up event to the Annual Meeting, the ADB held an essay contest on the theme of "Promoting Sustainable Development in Asia and the Pacific". Over 600 essays were submitted from students residing in the Asia Pacific region. Twenty-five winners from 16 countries, including 2 students from APU received invitations to attend the Youth Forum.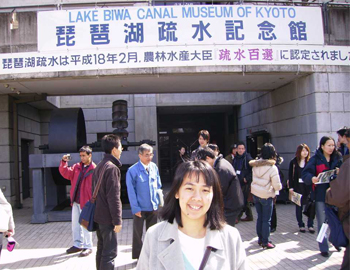 During the Youth Forum, the participants were divided into three groups according to their essay topics. The students then traveled to various sites to see companies, schools and museums that are considered successful examples of sustainable development in Kyoto. After the tours, each group held intensive discussions and composed group statements in regards to their topics. On March 16, each group presented their statements to the representatives of the ADB and to all of the essay winners. They also worked together to form the Voice of Youth, a group with the aim of producing a Youth Statement on Sustainable Development.
On Saturday, March 17 - the last day of the Forum - a lively panel discussion took place in front of an audience that also included members of the general public.
Commenting on the forum, Le Hoang Anh Thu (GSAM-APS2, Vietnam) said, "This Youth Forum was an excellent opportunity for me to meet up with youths from all around the region, to learn about other Asia Pacific countries and to understand Japan's experience in achieving sustainable development."
JERASAKANON Fundow Jerasakanon (APM4, Thailand) also expressed her enthusiasm. "Working with people from different backgrounds toward the same goal was extremely stimulating! This forum broadened my views and helped me learn more about practical sustainable development."