A 'World Festival' for AP House residents, APU students and faculty and staff was held on Sunday, June 17th, 2007, at AP House.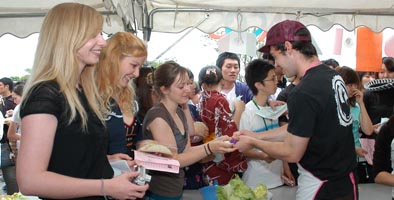 The festival, held in the inner garden of AP House 2, included dancing, a fashion show, games, ethnic food stalls, and a wide variety of performances.
AP House Resident Assistants (RAs) have hosted annual welcome parties as one of the many welcome events for new residents. To attract an even larger crowd this year, the residents revamped the program and added a number of new items.
Residents were divided into groups according to the floors they live on in AP House. They then joined forces to come up with event ideas and carry them out on the day of the festival. It proved to be a great opportunity for the residents to get to know each other.
Please click
here
for photographs.