Introductions of APU Circles and Societies for the new Fall Semester students began on Wednesday 3rd October in the APU cafeteria, and will continue until Wednesday 17th October.
There are approximately 150 registered student organisations in areas such as sports, academic research, arts and culture, friendship and volunteer groups etc., which are active on a purely autonomous basis. Events are not restricted to the university, but students are extremely active outside the university and overseas also.
Centred around the Academic Union (AU) and the APU Sports Circle Association (ASCA), this project to introduce the various circles and societies to the new students aims to promote a more fulfilling way of APU life.
The following enthusiastic appeal was made by the AU and ASCS members: "Through participation in extra-curricular activities, we can learn about many things from all around the world and gain a broader perspective on life. So through our sports and academic activities, please take as much advantage as possible of APU's multicultural environment!".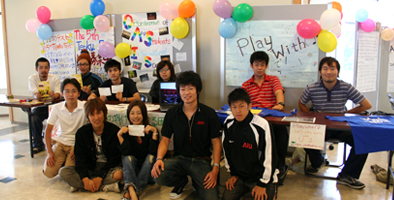 (Introduction of Circles and Societies for New Fall Semester Students)
Academic, Friendship & Volunteer Section
: 3rd & 8th October
Arts & Culture Section
: 4th & 9th October
Sports Section
: 5th & 10th October
Extra Dates
: 16th & 17th October
Place
:Booths (1st Floor Student Union Building, APU Cafeteria)
Time
:2nd-3rd period (10:35-14:10)