On Sunday 7th October, the Ritsumeikan University Symphonic & Marching Band hosted their "Commemoration of 3rd Consecutive Appearance in the All Japan Band Competition, Special Joint Concert in Oita" in collaboration with the APU Wind Orchestra at APU's Millennium Hall. Around 500 people comprising of APU students, local junior and senior high school students and residents from all over the prefecture came to enjoy the concert.
This was the first time the two orchestras performed together and the main aims of the concert were to create a new musical sound and also to learn a new set of values through mutual exchange. The members also wanted to show their fellow students, faculty and members of the public just how much they have developed through this experience.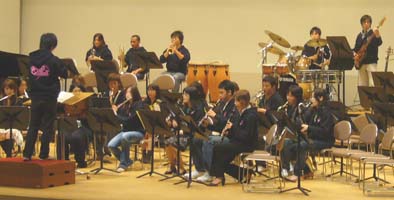 In part one, the Symphonic Stage, the Ritsumeikan University Symphonic & Marching Band opened with an intensive performance of four pieces including "A Suite of Five Okinawa Folk Songs and a selection from the operetta "Merry Widow". In part two, the Pops Stage, the line up included a medley entitled "Carpenters Forever", a symphonic suite from "Pirates of the Caribbean" and the theme from "Lupin the Third". The APU Wind Orchestra performed "A Whole New World" to complete a musical selection well known around the globe.
In addition, both orchestras joined to perform "Tequila", a spectacular fast tempo number that livened up the Millennium Hall and got the audience clapping in time to the music. At the end of the concert the audience called for an encore and both orchestras obliged by performing the "Canterbury Choral" and "Block M" to bring their joint musical performance to a very successful close.
The next performance by the APU Wind Orchestra will take place at the APU Tenku Festival on 27th and 28th October, and later in the winter season they will perform their "5th Annual Concert" at APU. We hope you will continue to support the APU Wind Orchestra and we look forward to seeing you again at future performances.
Please refer to the APU Wind Orchestra homepage for further details:
https://www.apu.ac.jp/circle/w_orches/