Every two years, the United Arab Emirates (UAE) hosts an international conference known as the "Festival of Thinkers", inviting guests comprising the world's leading intellects and Nobel laureates. This year's conference was held in Abu Dhabi and Dubai from 22nd to 24th October, and guests included 2004 Nobel Peace Prize winner, Ms. Wangari Maathai, 16 other Nobel laureates and 150 of the world's leading intellectsAPU was the only university invited from Japan, and President CASSIM was asked by the hosts to hold a session introducing Japan. The session, entitled "Japan Special", focused on the theme "Rising from the Ashes", in which President CASSIM and other distinguished participants from Japan reported on the country's miraculous post-war recovery.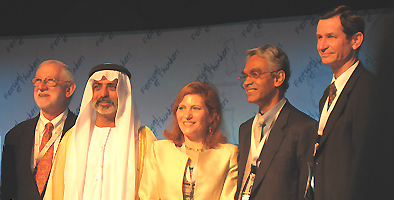 APU prepared the program and organised the participants for this session. As moderator, President CASSIM led a panel discussion with other opinion leaders from Japan, including Dr. KUROKAWA Kiyoshi (Professor at National Graduate Institute for Policy Studies, Special Advisor to the Cabinet, and former President of the Science Council of Japan); Ms. ISHIKURA Yoko (Professor of the Graduate School of International Corporate Strategy, Hitotsubashi University); Ms. Nassrine Azimi (Director, UN Institute for Training and Research, Hiroshima Office for Asia and the Pacific); Mr. IKENOBO Masashi (Chief Administrative Officer, Ikenobo Society of Floral Art, Japan); and Mr. SASAKI Yasuhito (Professor, Ikenobo Center Institute, Japan).
The "Japan Special" was attended by around 350 participants, including Nobel laureates, the world's leading intellects and university students, and during the session, Mr. Ikenobo and Mr. Sasaki introduced "Ikebana", the Japanese Art of Flower Arrangement, as a representative of Japan's traditional culture, and their demonstration aroused great interest in all of the participants.
This session was also attended by His Excellency Sheikh Nahayan Mabarak Al Nahayan, the Minister of Higher Education and Scientific Research and Chancellor of the Higher Colleges of Technology.