As part of the Japanese Grant Aid for Human Resource Development Scholarship (JDS), the Japan International Cooperation Agency (JICA) offers a training course hosted by APU on the "One Village One Product" movement. This course is for government officials who are associated with regional development projects for developing countries, and in October this year APU welcomed two groups of JICA trainees to this course.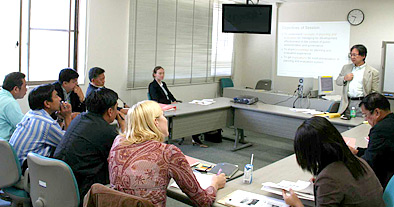 To begin with, eight trainees from the Philippines, who are participating in a training course entitled "Philippine Local Municipality Cluster Activation Seminar: One Village One Product Movement", came to APU from 15th to 18th October. As well as learning through lectures and group discussions about topics such as local government tasks, evaluation techniques and drafting business plans, they also visited the actual sites of Oita Prefecture's One Village One Product movement. Then on 30th October, ten trainees of the "Tunisia One Village One Product Movement" course came to APU to attend the same training course.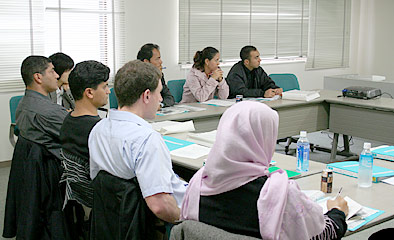 The One Village One Product movement is spreading not only all over Japan, but also throughout Asia and Africa, and in October 2006 APU hosted a "One Village One Product International Seminar". This seminar served as a unique opportunity for researchers, government officials and those people associated with implementing the movement to assemble in one location and discuss issues associated with economic disparity between rural and urban areas and report on initiatives being adopted in their home countries.
https://www.apu.ac.jp/home/news/article/?storyid=390