On Sunday 9th December, His Excellency Mr. Alounkeo KITTIKHOUN, Assistant Minister for Foreign Affairs of the Lao People's Democratic Republic visited APU. On his visit, Mr Kittikhoun met with APU Vice President, Professor Cooper, Dean of the College of Asia Pacific Studies, Professor Yamagami, and current APU students from Laos.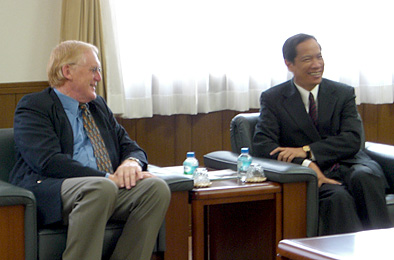 In the meeting with Vice President Cooper and Dean Yamagami, Mr Kittikhoun was told about the seven students from Laos who are currently studying at APU's graduate school as part of the Japanese Foreign Ministry's JDS Program (Japanese Grant Aid for Human Resource Development Scholarship). The gentlemen exchanged opinions about both the students' hard working attitude and the various activities that they participate in, and also expressed the possibility of working together in the future to set up various programs.
Mr Kittikhoun then held an informal talk with the current APU students from Laos and focusing on the students' studies and university life, everyone enjoyed the lively question and answer session. Until the beginning of 2007, Mr Kittikhoun acted as Ambassador & Permanent Representative of the Lao PDR to the United Nations for a total of 14 years and, including the United Nations, he has cultivated a wide network of connections in many international organisations.
There are currently seven students from Laos studying at APU's graduate school (all on the JDS program), and the opportunity to meet and exchange opinions with the Assistant Minister proved to be a very rewarding opportunity for the all students.