At the 11th ASEAN Plus Three Summit held in Singapore on 22nd & 23rd August 2007, Thailand offered to hold four of the programs for the East Asia Festival and the Culture City of East Asia, from December 2007 until early 2008, to commemorate the 10th anniversary of the founding of ASEAN Plus Three.
As part of these events, Thailand hosted the East Asia Youth Leadership Forum in Bangkok, from 25th November to 1st December 2007, in order to provide opportunities for youths from ASEAN Plus Three countries to exchange opinions, promote mutual understanding, raise awareness and also to strengthen their networks.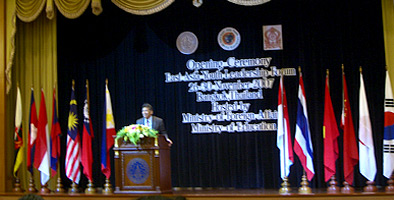 Of the young people of the ASEAN Plus Three countries who were invited on this program, a delegation of 10 students from Japan were invited, including one APU student, and they were accompanied by a supervisor. During this forum, the participants engaged in a range of activities including a special lecture by the new chief executive of ASEAN, talks with the ambassadors of the ASEAN Plus Three participating countries, and a visit to the Bangsai Arts & Craft Centre.
Mr YOKOTA Shigeru (APM3 Japan), the APU student who attended the East Asia Youth Leadership Forum, reports below on what he learned there.
"At the East Asia Youth Leadership Forum, I attended opinion exchanges with delegations from each country about the role of young people in reinforcing the development of East Asia. I also participated in a group discussion entitled "The Role of Youth in Environment Sustainability", where we presented our own opinions on environmental issues. Those opinions were incorporated into a joint declaration presented on the final day, and it was then that I realised how important it was to pluck up the courage and state my own opinion. In addition, through talks with people from the Japanese embassy and the deputy leader of a delegation from UNESCO, I was able to understand the difficulties and the challenges concerning diplomatic relations.
The greatest benefit for me at the forum was meeting young people from other participating nations who had a spirit of dynamism about them. I was inspired in many ways talking frankly into the night with them about a range of topics, such as economic and environmental problems, and youth culture in our respective countries. These experiences were very character-building and I think they will help me develop personally from here onwards. Furthermore, I want to be able to make headway in my own field of expertise, whilst also taking in a broad view of the world. Therefore, as an East Asian living in the region from which so many expectations are being harboured, this forum has made a significant impact by encouraging me to re-appraise myself as a Japanese citizen born in Japan, and to consider the future direction of East Asia from a "Glocal" (global and local) point of view."