On Friday 14th March, the 2008 APU Spring Graduation Ceremony took place at Beppu's B-con Plaza, and 741 students from 37 countries and regions gathered to celebrate the beginning of a new chapter in their lives.The graduating students began to arrive early, mingling with family and friends in the atrium of B-con Plaza, taking commemorative photos before the beginning of the ceremony, with fellow students rushing up to offer their congratulations.
APU President, Mr. Monte CASSIM encouraged the new graduates in his opening greeting: "As you leave this campus, I have three requests of you. First, I would like to see the knowledge you have gained transformed into wise decisions. Next, I would like you to uphold the values that APU has tried to nurture in you, particularly the values of justice, of caring for and sharing with others, especially with those less fortunate than yourselves. Finally, I urge you to always dare to dream and have the strength to realize what you have dreamed."
Then, following the awarding of degree certificates to four PhD graduates and the representatives of each college and graduate school, the recipient of the Ando Momofuku Honor Scholarship, Ms. FAUZIA Tasniem (APS, Indonesia), gave a speech on behalf of all graduating students stating: "With what we have gained from APU, our alma mater, we would like to make a contribution, no matter how big or small, to solve the myriad of problems in our respective countries."
Then, speaking on behalf of the graduate school students, Mr. MACDONALD Brian Alexander (GSAM-MICP, Canada) proudly exclaimed: "In possession of multicultural understanding, tolerance and diversity, APU graduates set forth to assume their positions as the leaders of tomorrow, and the future of the Asia Pacific region, and of the world, looks bright indeed."
Finally, the ceremony concluded with the graduates tossing their caps high into the air of the auditorium, and as they face the beginning of a new chapter in their lives, the graduates leave with fond memories and experiences of APU to pursue further study or career opportunities.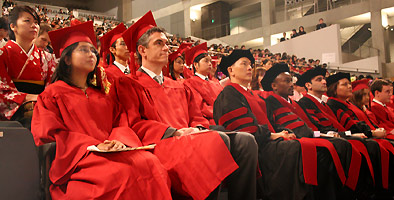 Meanwhile this spring, approximately 1080 students are set to commence their studies at APU and they will be formally welcomed at the APU Entrance Ceremony at Beppu's B-con Plaza on Wednesday 2nd April 2008.