On Monday 14th April, the former president of the European Court of Human Rights and visiting professor to Ritsumeikan University, Mr. Luzius WILDHABER, visited APU.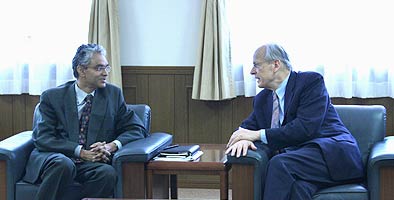 After a meeting with APU President Monte CASSIM, Vice President YAKUSHIJI Kimio and APS Dean YAMAGAMI Susumu, Mr. Wildhaber gave a lecture entitled "An Overview of the European Court of Human Rights" at the seminar of Assistant Professor TAKASHIBA Yukiko. At the end of his stimulating lecture, Mr. Wildhaber engaged in a lively question and answer session with the students in attendance.
This lecture was set up at the recommendation of Ritsumeikan Law School Professor DEGUCHI Masahisa, who said he would very much like to continue to organise this kind of international symposium under the mutual collaboration of APU and Ritsumeikan University.
On Friday 18th April, Mr. Wildhaber then gave a keynote report at an international symposium entitled "EU Consolidation and Protection of Human Rights" organized by Ritsumeikan University Law Association. This symposium was held at Ritsumeikan University, and APU Vice President YAKUSHIJI and Assistant Professor TAKASHIBA also attended as commentators.
It is hoped that this kind of mutual collaboration will continue to further enhance academic exchange between APU and Ritsumeikan University.