6 APU Library Assistants(LA), including 3 international students had been to a training and exchange session at Ritsumeikan University and communicate with Library Staffs of Ritsumeikan University Library one another.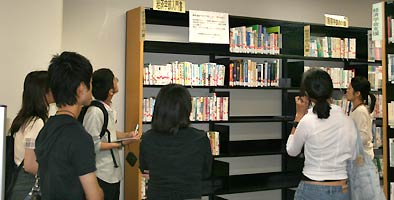 41 students work for LA currently. LA is a students' organization which supports APU staff at Library. Library Staffs work for Ritsumeikan University Libraries.
LA had learned how Library Staffs of Ritsumeikan conduct their work, and also had introduced how LAs conduct their work at multicultural environment at APU to Library Staffs through the training session. LA visited both libraries at Kinugasa and BKC campus of Ritsumeikan University Library, leading to a lively exchange of opinions about each framework with Library Staffs.
This training session enhanced LA's solidarity and ability to perform the task.