On 14th and 15th June 2008, an exchange camp between Long Stay Beppu (LSB), an independent APU activity group, and the Tango Muraokoshi Development Team, a Ritsumeikan University group, was held in Beppu city. 20 APU students, including 7 international students, and 3 Ritsumeikan students took part in the camp.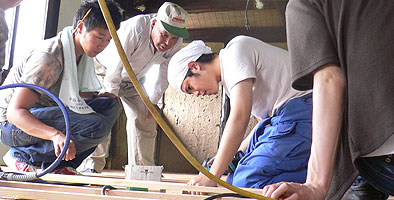 The LSB was formed in 2000 and the members focus their activities on a "Holiday House Project" to research whether it is possible to introduce the European and American style "long-stay vacation" in Japan. With the cooperation of local residents, they restore and manage vacant houses in the district of Uchinari in Beppu city to be used for long-term accommodation.
The Tango Muraokoshi Development Team was formed in 2004 and consists mainly of students from the Ritsumeikan Management Department. The members are restoring an old bamboo grass thatched house in Kyoto, and are managing it with a local NPO as a farming experience house.
By carrying out the restoration of the old house at Uchinari with LSB members, the Ritsumeikan students learned more about the activities of the LSB. Furthermore, there was an opinion exchange between Ritsumeikan and APU students about their respective organizations and initiatives, and the groups were able to learn a lot from each other.
Another exchange camp is scheduled to take place on 28th and 29th June at Ritsumeikan University, and it is hoped that this will further deepen exchange between both parties.