Local residents around Beppu city have supported the APU international students in their Japanese Class for approximately a month from June 12th to July 8th. The students learned not only daily Japanese conversation but about Japanese society and culture through the residents' standpoint and experience. The class has been a very precious opportunity for the students.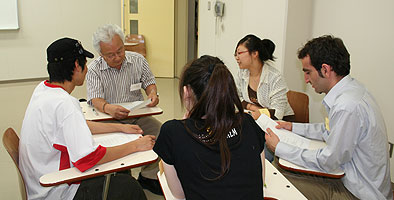 APU offers the Japanese Class for international students whose Japanese level is low or intermediate at the time of their enrollment. The Class is divided into three levels: foundation, intermediate and advanced. Students in the advanced class try to pass the Japanese certification level 1 exam, which is an important criterion for entering most Japanese companies.
The Regional Volunteers system was set up in 2000 with the opening of APU. The number of registered volunteers was initially 30 but has increased to 289. They regularly support each level of the Japanese Class.
On Friday, June 27th, 25 students and 5 Regional Volunteers attended HIRANO Mariko's Japanese Advanced Class. The students asked the volunteers how Japanese people use honorific expressions such as questions. They asked "When do people use honorific expressions?" and "What is the difference between special words of modesty and special words of respect?"
The students who attended said, "The class with the Regional Volunteers is very meaningful because we can learn about their perspectives and culture directly as well as the Japanese language." Another student made this remark, "Although Japanese Kanji and honorific expressions are very difficult, our instructor and the Regional Volunteers helped us with great care. I appreciate them very much."
As for the volunteers, a woman with 3 years of experience said, "After knowing each other in the class, I deepened my relationship with the APU students. A student gave me a hand-made accessory and I invited some students to my house. I enjoyed my activity at APU". Another male volunteer also commented, "I get to know young generation's ideas and different cultures. It is a good stimulation for me."
APU expects APU students and local residents to further deepen their relationships through this activity.