APU student circle "AIESEC"hosted the 4th Business Case Challenge (BCC) competition between Friday, June the 13th and Monday, June the 16th, 2008. 40 teams, each with a maximum of four members per team, participated in the competition, which was held at APU.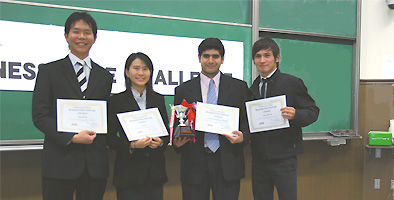 The competition required that each team use their accumulated business knowledge to think about how to deal with an actual business case. The case used for this year's competition dealt with how the Tata Group in India should go about acquiring the Jaguar and Land Rover brands for 2.3 billion dollars. Each team had to review the case on the assumption that they were a consulting firm hired by Tata group. While watching each team's presentation, the panel of judges decided the top teams by allocating points for the acknowledgment of problem areas, analytical ability and concluding statement.
The BCC competition has been held every year at APU since 2005. The number of participants is increasing yearly and this year brought entries from twice as many teams as last year (twenty teams).
On Sunday the 15th, each team gave a twenty-minute presentation to a panel of judges made up of APU professors. A ten-minute question and answer period was allocated for each team, during which time the judges made comments and asked questions about the team's ideas. Four teams made it through to the final stage held on Monday the 16th. Each team was then further evaluated by a panel of judges made up of 7 APU professors and 12 PhD students.
The undergraduate winning team consisted of Emilia Anggiarani Dewi(APM3, Indonesia), Alvin Susanto(APM3, Indonesia),BOHM Christina(APM Austria), MA Sze Man(APM Hong Kong). The graduate winning team consisted of Calderon Huert Mario Rodolfo(GSM2 Mexico), Marvel Yan(GSM2 Indonesia), CHEN Chih-Lung (GSM2 Thailand), Loretta(GSM2 Indonesia).
The undergraduate winning team will be representing APU at the Citi International Case Competition (CICC), being held at Hong Kong University in October this year. This event will welcome students from around the globe, making it an excellent opportunity for APU students to experience an international event and interact with students from different universities.
The head judge and APM Assistant Professor JEHAN Shahzadah presented the prizes to the winning teams and commented, "I was glad to see students embracing the challenge and working together as a team for one common goal. This event was a good exercise for students wanting to become entrepreneurs and leaders."