The APU students that run the internet portal BEPPoo!! for information on Beppu City launched an eco bag campaign with students from Beppu Mizobe Gakuen College. They are hoping that their original eco bags will help facilitate a student-led eco movement in Beppu.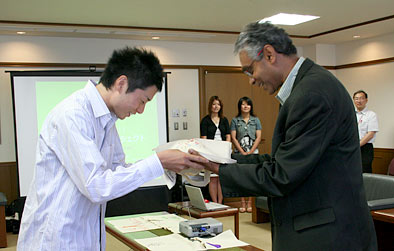 They will distribute 200 free eco bags mainly to students every month for 9 months from this July until next March. They are donating ad revenue from the BEPPoo!! site to cover the cost of manufacturing. They hope the eco bags will boost awareness of environmental issues among the youth of Beppu. Their ultimate aim is to revitalize Beppu as an eco-friendly city.
On July 9th 2008, 9 students that designed the eco bags, including APU students from BEPPoo!! and students from Beppu Mizobe Gakuen College, met with APU President Monte CASSIM and presented him with eco bags. A representative said, "We would appreciate if you would choose your favorite 12 designs out of these 24 and share them with the faculty and staff." President CASSIM selected his designs carefully and commented, "I am already an eco bag user. I hope your bags are popular with the citizens of Beppu and that they raise awareness of environmental concerns."
The leader of this project, MASAKI Kohei (APS3, Japan), said, "I hope that the younger generation gains an awareness of environmental issues from our activities. I have dreams that someday Beppu will become well-known not only as a hot spring resort, but also as an eco-friendly city."
BEPPoo!! Website:
http://www.beppoo.com/
Refer to the following link for more information on the Eco Bag Campaign:
http://mizobeppoo.jugem.jp/