Since the system of extracurricular activities changed from October 2007, APU organizations are divided into premier organizations, registered organizations and circles. Included in these changes the Premier Organization meeting, which is composed of twelve premier organizations to develop APU through circle activities, was also inaugurated.
This time the former secretary of the Premier Organization meeting and PRENGO former representative, Tatsuya Kamakari (APS4, Japan) will report the contents of this meeting.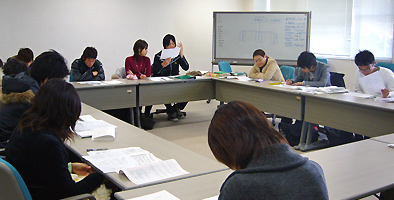 The Premier Organization meeting has been held once a month by a representative of each premier organization, SOSC (Student Organization Support Committee) and staff members of the Student Activities Office. We have held the meeting seven times since October 2007.
In the meeting, we shared the vision of APU extracurricular activities for the future and discussed solutions to various demands from organizations. We have examined the current system to consider improving the management of APU extracurricular activities in the future.
However, in this first year, we have only formed the basis for the Premier Organization meeting like the way meetings are held, place of meetings and sharing a vision. From now, we will approach APU development through extra-curricular activities based on previous experience.
The chairperson of the Premier Organization meeting, Yu Shiota (APS4, Japan), made the following comments:
"I could broaden my own views through coming into contact with many people and discussing problems, which I had nothing to do with until now. In management of the meeting, we concentrated on how to involve all premier organizations in this meeting, while creating a vision for the meetings. "
One year has passed since the first Premier Organization meeting began and we changed the chairperson and secretary at July's meeting. The new chairperson and PRENGO representative, Shiro Mizokawa (APS3, Japan) said, "From circle representative, I was appointed representative of the premier organizations. I want to leave behind some clear results that are inline with the purposes of the premier organizations and APU." The new secretary and Wind Orchestra deputy representative, Ayano Kubota (APS2, Japan) said, "I want to try to deepen cooperation of premier organizations and circles as well as to appeal to APU." The representative of the Men's Lacrosse team who ran for assistant chairperson, Maiya Inoue (APS3, Japan) said "I think that extracurricular activities at APU have room for improvement. I am looking forward to getting involved in the growth of APU through the meeting."
From my experience as Premier Organization meeting secretary, I am proud to have created a foundation to expand extracurricular activities at APU. I hope to increase the students who play an active role through extracurricular activities and link these activities to develop APU.