On Saturday 11 and Sunday 12 of October 2008, the APU Event Organization, BEACH HOUSE PROJECT sponsored "2008 BEACH HOUSE PROJECT" was held at Matogahama Spa Beach, Beppu City.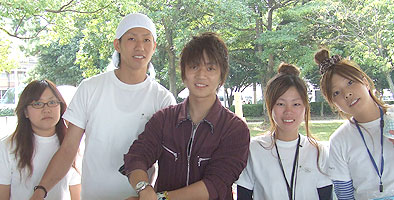 The project, now in its 3rd year, featured fundraising events and of ethnic food sales, as well as sports events for the visitors to join in, and live music.
At the sports event held on Saturday 11, cheers went up for the supercharged 3on3 basketball game held at the specially prepared court on the beach. Artists from a range of genre participated and mesmerized the visitors with their live music performances held on the following day. Furthermore, at the India Free School "Mother Baby School" fundraising events space, actual photos of the school and of the care free smiles of the students' faces were on display. Many people were seen taking a keen interest in them.
The APU BEACH HOUSE PROJECT Premier Organization was established in October 2006 with the aim, focusing on the Beppu coast, of creating communication and the building of a regional network and to date has been running this charity event and Beppu coastal area clean-up projects. Furthermore, they endorsed the "TABI-GAKU School & Lodge"(*) project and send 2 members to participate as Japanese volunteers at the "School Construction Project" held in Varanasi, India, and actually carried out construction projects along with the Indian resourcefulness.
The proceeds of this event will go towards the beautification and activation of the Beppu Bay coastal area and used for the benefit the students of Mother and Baby School.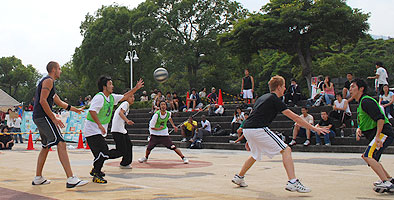 Sports Event Results
Beach Basketball (20 teams)
1st: Kobutachan (general team from Fukuoka)
2nd: Seven (APU Korean international student team)
3rd: Champion (APU student team)
Beach Soccer (16 teams)
1st: Tairyo- for the team (APU student team)
2nd: Jugones (APU student team)
3rd: Umeda Corp. (general team)
*The "TABI-GAKU School & Lodge" project
This is a school construction project set up by the magazine "TABI-GAKU". The magazine, via the magazine and website, invites investors and volunteers to take part. In May 2008, 80 Japanese volunteers spent about one month building the Mother Baby School in Varanasi, which allows students to attend school free of charge.
The official TABI-GAKU website:
http://www.a-works.gr.jp/tabigaku/