From Saturday October 11, 2008, till Saturday October 25, a photo exhibition showing the volunteer activities of APU Volunteer Circle PRENGO in the Kingdom of Thailand is being held at the Fukuoka Ritsumeikan Plaza.
Every year in February and September, PRENGO initiates regional volunteer activities based in Ban Khao Huai Mahad School, Rayong Province, in the Kingdom of Thailand.
This photo exhibition provides a visual record of PRENGO's 10th volunteer activity mission to Thailand in September 2008. This exhibition gives us a glimpse into the real state of Thailand through photos showing the students studying hard at school, their carefree laughing faces, and the adults earnestly manufacturing goods.
MIZOKAWA Shiro (APS3, Japan) made a guest appearance at the APU Public lecture held in Fukuoka City on the opening day of the exhibition, and introduced the PRENGO activities using images of their activities to date.
PRENGO was established in 2000 and is an APU premier volunteer circle. They are involved in volunteer activities in Rayong Province, in the Kingdom of Thailand, and center their activities on the three areas of economic support, public health support, and educational support. This time Ritsumeikan Elementary School Vice President, Ritsumeikan University Professor Hideo KAGEYAMA, a famous promoter of the "Hyaku Masu Keisan" (Hundred Square Calculations) system also participated in the activities and gave a "Hyaku Masu Keisan" at the primary school.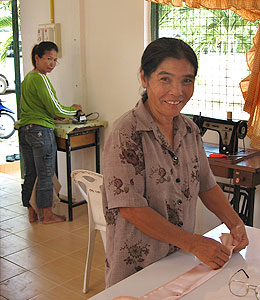 Time:October 11 (Sat) - 25 (Sat) 11:00-19:00
*Closed Sundays and Mondays
*The last day Oct. 25 (Sat) will close at 17:00
Place:Ritsumeikan Plaza Fukuoka
(1-4-2 Tenjin, Chuo-ku, Fukuoka, Erugara 6 Floor )
Entry:Free
Sponsor:APU Student Volunteer Circle PRENGO
Supported by: Ritsumeikan Plaza Fukuoka
PRENGO Website
https://www.apu.ac.jp/circle/prengo/