On Saturday October 25 and Sunday 26, 2008, the Base Event APU University Festival Committee hosted "6th Tenku Festival" Campus Festival was held over two days and attracted many visitors. The theme for this year was "HUG the World!!" and all of the APU students and others who came along came together aiming to forge a new culture.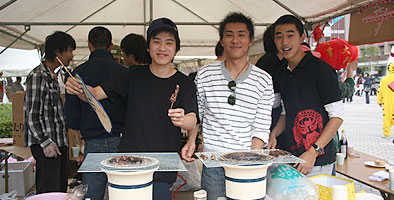 There were three stages at different locations around the campus hosting a variety of performances such as Wadaiko "RAKU" (traditional Japanese drums), Samulnori (traditional Korean music), wind orchestra and band performances, and also traditional dances from all over the world. A total of 7 groups from Ritsumeikan University also came to participate in the festival including such groups as RITS-TEKKEN and Ritsumeikan Broadcasting Center. They all got the crowd going. There were over 50 food stalls offering local foods from students' home countries and regions including Indonesia nasi goring, Korean chijimi and bibinmen; and Vietnamese spring rolls. There was also flea market, exhibitions by student Academic, Friendship & Volunteer groups of their photography, art work, displays of their activities such as volunteer activities overseas, horse riding, and an exhibition wrestling match by Oita AMW Pro-wrestling.
From 4:00pm the Night Festival began and the campus looked magical as it was it lit up by illumination - very different to how it looks during the day. The festival ended with a bang provided by a colorful fireworks display.