World Renowned Cellist, Danjulo Ishizaka Holds Recital at APU
On 1 April, APU welcomed with open arms its new students at the enrolment ceremony. During the course of the following week new enrolees were introduced to various facets of life at APU; carried out course registration; and received instructions on how to use the library amongst other things. On the day of the last guidance session held on Friday 8 April, new enrolees were treated to the soothing wafting cello music of Danjulo Ishizaka to abate the welter and bustle of an exhausting week.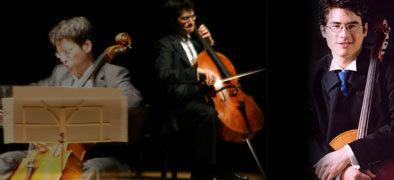 Before an audience of some 300 people at Millennium Hall, Mr. Ishizaka performed Kodye's Unaccompanied Cello Sonata, and Bach's Unaccompanied Cello Suites 1 & 6. On display was the talent that has created such a stir on the international stage; Mr Ishizaka effortlessly switched from gentle swaying melodies to at times ferocious cello-playing that left an indelible impression on all present.
Mr. Ishizaka received a rapturous applause after each piece was performed. In order to quell the audience's insatiable thirst, Mr. Ishizaka gave an unscheduled encore performance: a moving rendition of Music for Children.
The recital was co-sponsored by the APU-Club Domestic Students' Parents Association to welcome new enrolees to APU. Mr Ishizaka was in Japan to give a recital in Oita City on Saturday 9 April. However, a special performance exclusively for APU students was arranged for the previous day.

Born in Germany to a Japanese father and German mother, Mr Ishizaka performs in numerous countries throughout Europe, America, Russia, and Japan. A cellist of outstanding ability he was awarded the internationally-acclaimed Young Artist of the Year award in 2003.

Mr. Ishizaka had the following message for APU students:
"I am really happy with the amount of students and staff members who came to see the performance tonight. It gives me great pleasure to work as a musician: it can unite peoples; help overcome problems; and most importantly it can make people happy. I know that a lot of people, especially younger people, tend to listen to pop music or even no music at all. Therefore it really was a great honour for me to perform here tonight for everyone at APU".
ISHIZUKA Danjulo