On Wednesday October 22, 2008, a "Cross-cultural Leadership Workshop" was held for Senior Language Faculty and Staff by Leadership Consultant Mr. Larry Smith. The workshop, which was held over the whole day, addressed such issues as self-leadership, and its attributes; personality and its role in leadership.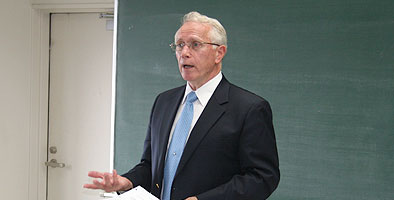 Throughout the day the group members participated in activities which, for example, determined their leadership style and also looked at how this would affect their ability to be an effective leader. In the afternoon the group took part in a group discussion of a complicated scenario which required them to rank the characters of the scenario in the order they thought was the most ethical. The exercise proved to be very interesting as it illustrated the subjectivity of ethics. The group enjoyed the opportunity to learn about the ramifications of differing ethics, especially in the Asia Pacific region. It proved to be a very valuable lecture.
During the lecture Mr. Smith said "There are three vital things one needs to understand to be an effective leader. You need to understand your personality, leadership style and your ethical principles. If you are going to train the leaders of the future of the Asia Pacific region, then ethics is a very important subject that has to be addressed."