On Wednesday October 22, 2008, the commendation ceremony for the "Health & Clean Idea Competition" was held and 7 students received prizes over the 4 categories: poster, character, idea, and essay.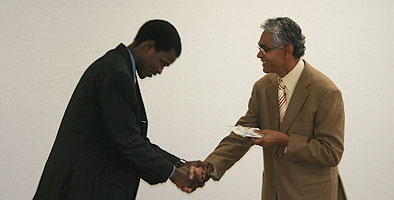 "Health & Clean Idea Competition" is one initiative targeting the planned smoke-free campus which will come into effect in 2013. The competition widely accepted ideas relating to health from students and was initiated to increase interest in health throughout the whole campus. The winning ideas and essays will be used in future campus awareness campaigns aiming for a non-smoking campus and the winning posters will be put up on display around the campus.
Recipient of the Highest Award, Mr. Ogeke Omariba Dismas (APS1, Kenya) compared the human body and lungs to a car's engine and strongly recommended giving up smoking "Unless we find ways to replace our lungs like we do to vehicles then do not smoke". President CASSIM, who was on the judging panel, said "When changing something, it is important that everyone work together in collaboration. Please believe that great things can come from small beginnings" and spoke of his desire to make the campus smoke free.
APU has organized the "Health and Clean Project" in collaboration with the APU Health Clinic, APU Co-op and Creotech to improve smoking etiquette, support non-smoking, and to reduce the amount of smokers. The "APU Health Day Health & Clean" was held in July this year. The Health Day provided free advice and consultations on how to quick smoking, free nicotine patches, and also body-fat checks and free eye checks.
Since September 1, 2008, smoking outside of the Smoking Shelter is prohibited at APU. APU is also implementing initiatives such as on-campus awareness campaigns aiming towards a smoke-free campus.
On Wednesday November 12, the "2nd APU Health Day" will be held aiming to further increase health awareness.
Prize Winners
Design Category
President's Prize Poster Design : SHIMADA Hiroko (APS2, Japan)
Creotech President's Prize Poster Design : NOGAMI Chiyumi (APS2, Japan)
Co-op Manager's Prize : Mascot KOUGA Maho (APM3, Japan)
Idea Category
First Prize Essay : Ogeke Omariba Dismas (APS1, Kenya)
President's Prize Essay : KOBAYASHI Takamichi (APS4, Japan)
President's Prize Idea : Firstya Vira Devina (APM1, Indonesia)
Creotech President's Prize Idea : KARASHIMA Naoko (AP House, Officer)