The Career Development Lecture "Occupational Awareness and Career Development" was held again this year for 2nd and 3rd year students in October 2008.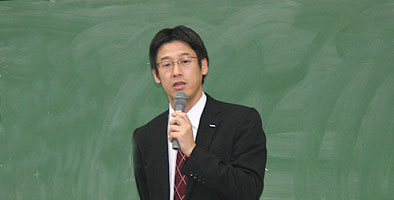 The "Occupational Awareness and Career Development" lecture is held for 2nd and 3rd year students wishing to seek employment in Japanese businesses. It aims to raise the student's awareness of the employment process by inviting people employed in prominent Japanese businesses to talk about their rich experiences.
Friday, October 31 welcomed SANYO Electric Co., Ltd. General Affairs/Human Resource H.Q. Human Capital Development Department, General Manager Jun NAKAMURA who gave a lecture. During his lecture Mr. NAKAMURA raised such issues as the stance and measures towards one's job, the realities of employment which university students are exposed to, and the importance of employment awareness and of forming a career.
During his lecture, Mr. NAKAMURA gave examples of the current economic situation. With regards to seeking employment, which predicted to get more and more difficult, he spoke of the importance of 1) knowing and facing up to the reality, 2) gathering information daily, 3) grasping the information and examining it until you understand it, and 4) thinking for yourself about what should be done. He gave the following words of advice to the students based on his years of experience: "It is important to focus on your 'future' rather than 'now' when you consider your desired occupation, a company to join and career to build up."
Many students at the meeting attended Mr. NAKAMURA's lecture and listened intently to what he had to say.