On Saturday November 15 and Sunday 16, 2008, the Beppu Town Planning Promotion Committee hosted SENTO TAISAI Festival was held.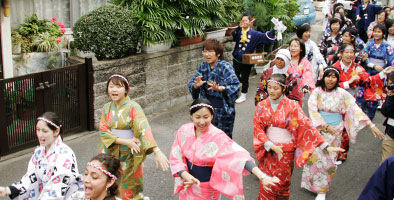 The SENTO TAISAI Festival is a new festival for Beppu centered on Beppu City students and citizens and aims to get Beppu City energized. The festival wound its way from Hachiman Asami Shrine to the eight meeting points that constitute Beppu's eight hot spring areas to show their gratitude for being blessed with onsens (hot springs).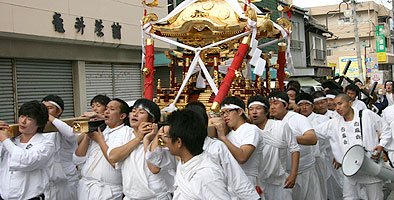 The festival precession proved to be a lively event as the festival goers paraded through the streets shouting "Sentosa-, Yattosa-" and the people who lined the streets joined in. On the 16th street stalls, rice cake making (free rice cakes) and lantern decorating took place at the Asami Shrine which saw the conclusion of the festival. Among the student performances was a traditional Iwate Prefecture dance performance by "MAIRAKU" and a performance by Japanese drum group Wadaiko "Raku" which got the festival going.
It is hoped that the Beppu Town Planning Promotion Committee initiatives to "make connections, create a sense of unity and sense pride of our home town through festivals which cross regions and generations" will continue to develop further in the future.