Message from the Director
The Asia Pacific Region in the face of COVID-19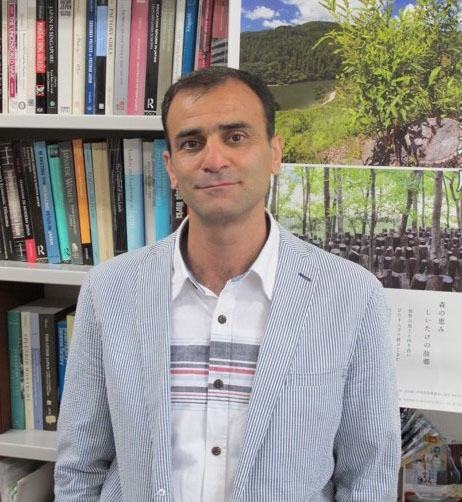 The International Center for Asia Pacific Tourism (iCAPt) researches the role of the tourism and hospitality industry in shaping the future of the Asia Pacific region based on APU's philosophy of "freedom, peace and humanity". Facing the crisis caused by the Covid-19 pandemic, the Center has created an online environment by organizing a series of webinars from environmental, socioeconomic, and human perspectives, where communities, leaders and academia can exchange ideas and share lessons learned from the impact of this event in the Asia Pacific Region and the world. This new webinar series aims to provide an online platform for collaboration among academia, local communities, the public and private sectors, and international organizations seeking to join forces on creating resiliency and recovery in the face of this world-wide crisis. A record of all past webinars can be accessed from www.scotwebinars.org. We value contributions to webinar outcomes that contribute to the sustainable use of resources for development in local areas on a global scale. In this way the Center seeks to strengthen the network of stakeholders and their involvement in the development of the Asia Pacific through the interdisciplinary field of tourism studies; during and after Covid-19.
Main activities in AY 2020
The international Center for Asia Pacific tourism has conducted a series of webinars during 2020 and 2021 to support the tourism communities affected by COVID-19. We organized a series of webinars in collaboration with North Carolina State University and T-Forum organizers.
Webinar 1 Resilience and Recovery of Tourism Communities
https://scotwebinars.org/volume-1/
Webinar 2 Actions of Small Destinations to Restore Tourism, Lessons from Beppu, Japan
https://scotwebinars.org/volume-2/
Webinar 3 Small business recovery amid covid-19, Lessons from the Caribbean
https://scotwebinars.org/volume-3/
Webinar 4 Prospects for hosting global service learning programs
https://scotwebinars.org/volume-4/
Webinar 5 COVID-19 pandemic and recovery strategies of tourism SMEs: Perspectives on Iran
https://scotwebinars.org/volume-5/
Webinar 6 Women in Small Communities Tourism
https://scotwebinars.org/volume-6/
Webinar 7 Development of Resilience and Leadership in Small Communities
https://scotwebinars.org/volume-7/
Webinar 8 Special edition in Portuguese: O paper das redes microempresariais
https://scotwebinars.org/volume-8/
Webinar 9 Climate Friendly Travel: Case for small communities and entrepreneurs
https://scotwebinars.org/volume-9/
Webinar 10 COMMUNITY-LEVEL POVERTY ALLEVIATION THROUGH TOURISM (IN CHINESE LANGUAGE)
通过旅游业的社区脱贫(中文系列)
https://scotwebinars.org/volume-10/
Webinar 11 Small community tourism development in Sri Lanka
https://scotwebinars.org/volume-11/
Webinar 12 Branding Small Communities Using International Certifications
https://scotwebinars.org/volume-12/
Webinar 13 Resilience of ecotourism communities in the South Pacific
https://scotwebinars.org/volume-13/
Webinar 14 El turismo rural en Iberoamérica ante la pandemia del COVID-19(Rural tourism in Ibero-America in the face of the COVID-19 pandemic)
https://scotwebinars.org/volume-14/
Webinar 15 Corporate and Institutional Resilience and Inclusiveness: The New Bottom-line in Tourism Communities
https://scotwebinars.org/volume-15/
Webinar16 Smart Community Tourism Development in Indonesi
https://scotwebinars.org/volume-16/
Webinar 17 Special Webiar in Arabic: SMEs and tourism eduation in the Middle East
https://scotwebinars.org/volume-17/
Webinar 18 Sunstainable Staycations FOR Small Community Destinations
https://scotwebinars.org/volume-18-2/
Researchers
Name
Current Affiliation / Position
Field(s) of Specialization
VAFADARI, M. Kazem
Professor
Ritsumeikan Asia Pacific University
Tourism
TODOROKI, Hiroshi
Professor
Ritsumeikan Asia Pacific University
Tourism, Geography
YOTSUMOTO, Yukio
Professor
Ritsumeikan Asia Pacific University
Tourism
BUI, Thanh Huong
Professor
Ritsumeikan Asia Pacific University
Tourism
KUBO, Takayuki
Professor
Ritsumeikan Asia Pacific University
Tourism
COOPER, Malcolm J.M.
Professor Emeritus
Ritsumeikan Asia Pacific University
Tourism, Environment
YOUN, Seung Ho
Associate Professor
Ritsumeikan Asia Pacific University
Tourism, Psychology
LE, Andrew
The Sydney Hotel School
Southern Cross University, Australia
Tourism
WILKINS, Hugh Lee, Jolliffe
School of Management and Law
Edith Cowen University, Australia
Tourism
MORAIS, Duarte
North Carolina State University
United States of America
Tourism
FUJIMAKI, Masami
North Carolina State University
United States of America
Tourism