Program Overview
Application Information
Available in October!
Date
May 28th (Thu) - July 24th (Fri), 2020
Program Hours
The Gateway Program Japanese Course is a 6-credit language subject which meets 12 times a week. Activities and field trips are scheduled during the week and on the weekends.
Activities
– Weekend home (farm) stay – Tea ceremony
– Calligraphy - Elementary school visit
– Overnight trip to Nagasaki (Atomic Bombed city)
Requirements
Applicants must meet one of the following two requirements:
Applicant must be enrolled in a Japanese or overseas university, or an equivalent institution of higher education, for a period encompassing the date of application and the date of program completion, or must have graduated from a university or equivalent institution of higher education.
Applicant must be a graduate of a high school or other secondary education institution, or must have completed 12 years of schooling in a foreign country, or equivalent schooling, and must be scheduled to enroll in a two-year college or four-year university in Japan or another country.
* In the case of 2, applicants are required to submit additional application documents.
| TOEFL PBT | TOEFL iBT | TOEIC | IELTS |
| --- | --- | --- | --- |
| 500 or above | 61 or above | 700 or above | 5.5 or above |
Number of Participants
Minimum number of participants is 13.
*The program may be canceled if this number is not reached.
Program Schedule
Period
Time
Mon
Tues
Wed
Thurs
Fri
1st
8:45 - 10:20
Japanese
Japanese
Japanese
Japanese
Japanese
2nd
10:35 - 12:10
Japanese
Japanese
Japanese
Japanese
Japanese
3rd
12:25 - 14:00
Cultural Activity
4th
14:15 - 15:50
Japanese
Japanese
The Gateway Program Japanese Course is a 6-credit language subject which meets 12 times a week. Activities and field trips are scheduled during the week and on the weekends.
Activities
An additional aim of the Japanese class is for students to deepen their understanding of Japanese culture. During your time at APU, you can expect to take part in a range of different cultural activities including Japanese tea ceremony and calligraphy. Previous students have also visited local schools and interacted with members of the community. If you prefer extracurricular activities with more of an academic focus, there are also optional courses you can take.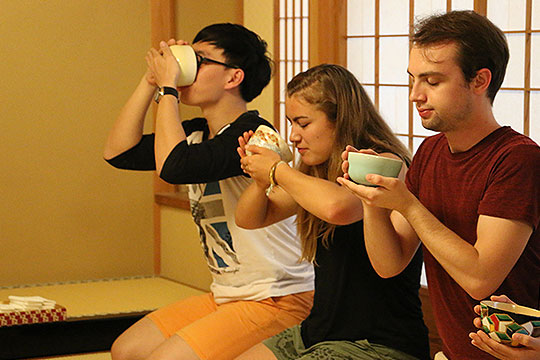 Tea Ceremony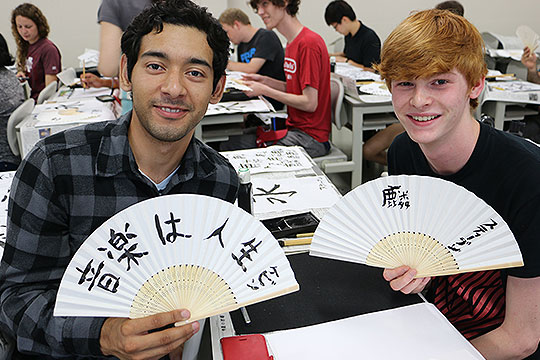 Calligraphy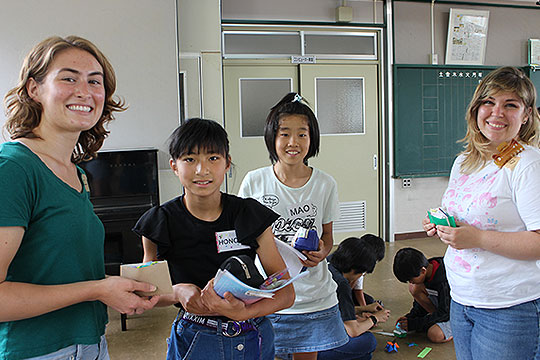 School Visit
Overnight Trip to Nagasaki
You will make a short overnight trip to Nagasaki during the program.
This trip will allow you to see a different part of Japan and help you understand the various cultures and historical backgrounds present in the country.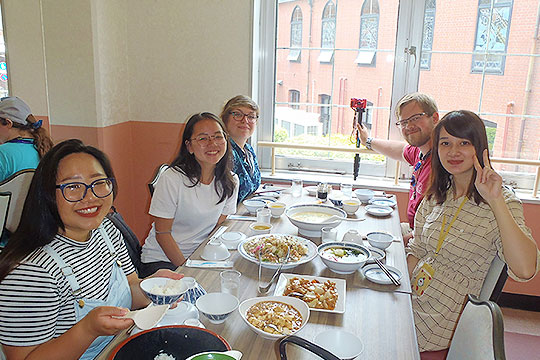 Weekend Home (Farm) Stay Trip
You will stay with a local family which would not otherwise have the opportunity to meet people from different countries. Because most of the host families operate farms, you will be able to experience farming life, traditional home cooking, and a variety of other activities unique to rural Japan.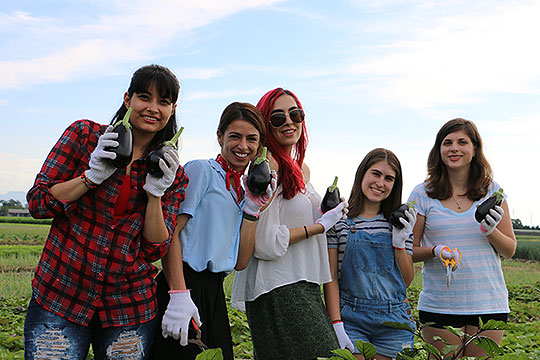 Application
Nov, 2019 -
Mar, 2020
・Online Application

October 25th, 2019 – March 2nd, 2020

・Screening Fee (JPY 11,750) Payment

Must arrive by March 2nd

・Submitting Application Documents by mail

Must arrive by March 2nd
・Screening

・Screening Result Notification

Tuesday, March 31st
・Program Fee (JPY 546,000) Payment

Wednesday, April 15th

・Medical Consent Form Submission

・Online Pre-survey Submission

・Overseas Medical Insurance Purchase
・Dispatch of Admission Approval and Pre-departure Package
・Program starts!

・Orientation
Instructors
We are currently updating this page. Please check back soon!
Accommodation
Students are guaranteed a single room in AP House 3 which is off-campus university-arranged housing. It takes 10 minutes to APU from the nearest bus stop.
AP House 3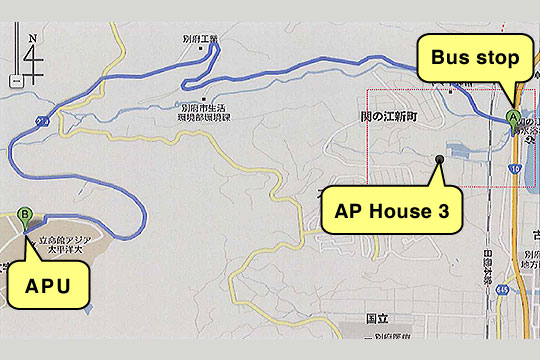 Participation Fee
| | |
| --- | --- |
| Screening Fees | 11,750 JPY |
| Registration Fees | 32,500 JPY |
| Program Fees (Tuition and Program Activities Fee) | 420,000 JPY |
| Housing Fees | 80,000 JPY |
| Bank Transfer Fees in Japan | 1,750 JPY |
| Total | 546,000 JPY |
* Meals, airfare, local transportation, medical insurance, and personal expenses are not included In the program fees.
You may take one academic course from the College of Asia Pacific Studies (APS) or College of International Management (APM), with a fee of JPY 45,000 per any additional credits.
Most APU lecture courses are worth 2 credits (90,000 JPY).
Scholarship
We are currently updating this page. Please check back soon!
Student Voice
LOSONCZI Lenna (CANADA)
I decided to participate in the APU Summer Gateway Program because of my desire to improve my Japanese language skills in an immersive environment, and to explore a part of Japan that is outside of the main tourist cities. My favourite memory from my time here has to be either our overnight trip to Nagasaki, where we got to visit one of the most beautiful cities in Kyushu and eat Nagasaki castella, or the frequent visits to local onsen with my classmates in Beppu. I thoroughly enjoyed my time in this program, and I would highly recommend it to anyone looking to explore rural Japan, gain confidence in their Japanese language skills, and make unforgettable memories that last a lifetime.
LEONG Ken (SINGAPORE)
I've decided to participate in the programme as I've always been interested in Japan and its culture. The best memory is probably the chance to get to know APU students, teachers, and friends who I met at APU. The students were really helpful and friendly. The buddy system incorporated in the programme is a good way for us to be immersed in the experience of what it means to be a true Japanese student in a Japanese university. One of my memorable experiences was the homestay programme as it allowed me to truly experience a Japanese lifestyle with a local Japanese family. The grouping was great, as beginners who were unable to converse as efficiently in Japanese were put in groups with people from different class levels.
Personally, I would recommend APU Gateway Programme to everyone who is interested in experiencing the Japanese lifestyle and culture. It has been a great experience for me, and most exchange programmes last for a few weeks. However, in 2 months, you get to experience most of what you intended to and get to know the culture, town, school, and people as well. I was really glad that I chose APU as my destination, and I'm glad that I've met many great friends in the programme.
TANG Yee Ning Elaine (CANADA)
Making the decision to go to APU was one of the best decisions of my life because I loved it there. The people in the Gateway program will be your new best friends for these two months and while the intensity of the program is no joke, I still loved it. The homestay weekend was a highlight for a lot of us in the program because we could spend time with a family and get a sense of what their everyday life was like. I personally really like the countryside so that was a plus as well. Over the weekend, we picked vegetables on the farm, went to the onsen (I didn't know there were also cold onsen before), visited a lot of temples, got our fortunes told, and ate a lot of good food made by our lovely host mom. We were put into groups of three or four with one of the host families so everyone's experience was a little different but still amazing nonetheless.
LIM Gerald Wen Yuan (SINGAPORE)
My experience with APU Summer Gateway Program was an immensely fruitful and eye-opening. In the span of 2 months, I learned so much Japanese that I was able to converse comfortably in the basics with my APU buddies, and other Japanese citizens too! The culture of inclusiveness was strongly felt, and I thoroughly enjoyed my time spent with my newfound friends. It was the biggest highlight of my life. I highly recommend this program for anyone interested in Japanese culture!
FISHER Robert (USA)
I'm studying Japanese with the aim of becoming a multilingual translator and, at the time, I really wanted to test my level of Japanese proficiency with native speakers. I enjoyed getting as much as I could out of the Japanese classes. APU is a perfect university for students of differing levels of Japanese proficiency. Furthermore, the culture shock here isn't as hard-hitting because there are a lot of English-speaking international students who can help you, which is also good for students who aren't comfortable with their Japanese just yet. Studying at APU was great and it let me experience a unique international culture that I have never seen before, not even in America.
Frequently Asked Questions
Q1: Does APU offer any scholarships for the Gateway participants?

A:

(Students from APU's partner universities only)

APU applies for the JASSO Scholarship in fall for the follow year's programs. JASSO Scholarship is a benefit-typed scholarship with a monthly stipend of 80,000 yen per month. The results are usually announced in late January, and if the university's application is accepted, prospective Gateway students can apply for the JASSO Scholarship. Because a limited number of students are awarded this scholarship, students must have enough funds to cover the cost of the entire stay.
To learn more about the JASSO Scholarship, please visit this link.
Q2: When will the application information be posted online?

A: The application information will be updated on our website around early November.
Q3: What kind of student clubs/organizations can I participate during the program?

A: We encourage study abroad students to get involved in one or more of our over 160 clubs to enhance their experience, learn something new and simply have fun. To see a list of clubs/organizations, please visit this link.
Q4: Is it possible to transfer credits I acquire at APU to my home institution?

A: If you plan to transfer credits, we advise you to talk to your international office at your home university.
The Summer APU Gateway Program Japanese Course is 6 credit as a language subject with 142 class hours(as of 2019.).

One official transcript will be sent to you in early October. A Certificate of Participation will also be presented to participants who have successfully completed the program.
Q5: Is it possible to send a package to AP house before my arrival?

A: Unfortunately, APU or AP House 3 cannot keep your belongings prior to your arrival in order to avoid the loss or damage.
Q6: Can I use my credit card in Japan?

A: All Post Office ATMs in Japan let you use overseas-issued credit cards. For a full list of card types accepted, refer to the Japan Post website.

The Post Office ATM is located next to Building E (APU cafeteria).

Credit cards (VISA, Mastercard, American Express, JCB) can be used at department stores and major shops, however it can be difficult in small supermarkets and retailers. Cheques are not accepted, and Swift payments at the cash-register of shops using your bank cash-card are not available.
Q7: Where can I exchange money?

A: You can exchange money at the airport, post office and banks. However, we strongly recommended you to bring at least enough cash with you to survive for your first couple of weeks as there are no money exchange services in the vicinity of APU.
Inquiries
The Academic Office
Ritsumeikan Asia Pacific University
TEL: 0977-78-1101
FAX: 0977-78-1102
Email: summer@apu.ac.jp