Nov 10, 2009
On June 26, 2009 APU's Asia Pacific Innovation Management Center (AP-IMAC) and U.S. - Asia Technology Management Center (US-ATMC) concluded an agreement for research collaboration on eco innovation, including solar battery, electric automobiles, energy saving technology.
AP-IMAC director Nakata Yukihiko is making use of APU's Academic Development Leave (ADL) program and from October 16, 2009 to March 15, 2010 and will be conducting investigative research mainly on Silicon Valley's solar battery venture.
Stanford University is a university which provides wisdom and human resources to Silicon Valley. Silicon Valley began when Hewlett and Packard, two students supported by Professor Terman of Stanford University, founded the company HP. In the first garage at HP, there is a memorial tablet which says, "Birthplace of Silicon Valley").
Director Nakata said, "I found my place to live, and then the next week, I participated in Solar Power International in Anaheim. There were more than 1,500 people in the welcome party before the opening, and I felt that there was a strong air of excitement from the desire of the people to participate in the solar battery industry."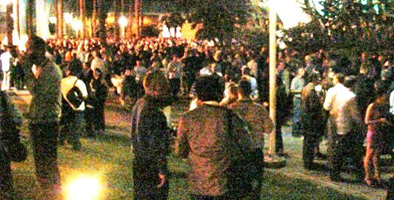 "I also conducted an investigation on Organization of Technology Licensing (OTL), an organization that transfers the technology of Stanford University to the market. The investigation was conducted with Professor Genba Kiminori, also from Ritsumeikan University", Director Nakata said.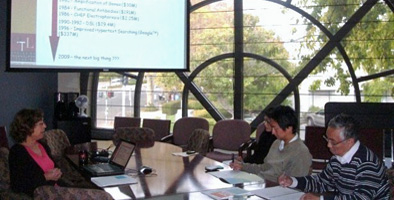 Stanford University OTL Investigation (From left Ms. Gal from OTL, Professor Genba Kiminori from Ritsumeikan University, Director Nakata)
"I will continue the study on the solar battery venture of Silicon Valley and with it as a case example, will support Oita prefecture's regional enterprises and new solar battery industries in Oita", said Director Nakata.
TOPIC

研究活動