RCMA Research Results Report Session
Research Center for Muslim Affairs (RCMA) held the Research Results Report Session on December 11, 2018. The outcomes of the five research projects, which were selected at the time of RCMA's inauguration, were presented by the researchers. Additionally, the student members of Halal Honey Soy Sauce project, which has been supported by RCMA and planned to be launched next January in collaboration with Fundokin, presented their opinions. It was a great opportunity to report the activities and show appreciation to Oita Bank and Inspire, which have supported the activities of RCMA, as well as to attendees within and outside the university.
Mr. SHIMIZU Masatoshi, Oita Bank
"Hope the research results be useful
for regional revitalization."
Prof. BARAI Munim Kumar
with a Research Collaborator
Associate Prof. TATEYAMA Hirokuni
Prof. TSUKADA Shunso
Student members
of Halal Honey Soy Sauce Project
President TAKATSUKI Ryosuke, Inspire
"Future Innovation can be realized in
collaboration with APU."
Comments from student members of the Halal Soy Sauce Project
"As we have recognized how our friends who are Muslims have experienced difficulties in their dietary habits in Japan, it is our pleasure to have joined this project."
"We had a great opportunity to make use of the knowledges which we have learned in the classes."
"We would like to keep working on the marketing so as to inform the society of the benefits of this product."
Your support and cooperation in RCMA's activities are greatly appreciated!
[Report] The 4th RCMA Special Lecture
The 4th RCMA Special Lecture took place on April 19th at the Oita Bank Sorinkan.
This special lecture featured two speakers from KITAYAMA NANZAN Inc., the company that owns "NANZAN," a famous yakiniku restaurant in Kyoto. CEO Teiai Kusumoto and Executive Director Teirei Sohn presented a lecture titled, "Potential of Food & Drink Market Brought by Halal Wagyu Beef." Over 40 attendees earnestly listened to the lecture, which discussed the company's efforts on halal wagyu beef, the company's future strategy, and also a variety of services intended to please all kinds of customers and allow them to enjoy meat in a healthy and delicious way.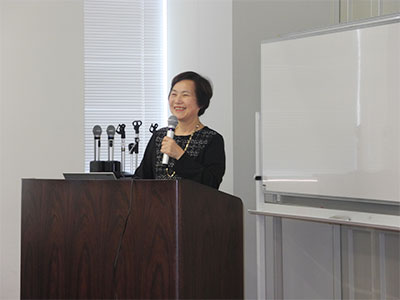 CEO Teiai Kusumoto, KITAYAMA NANZAN Inc.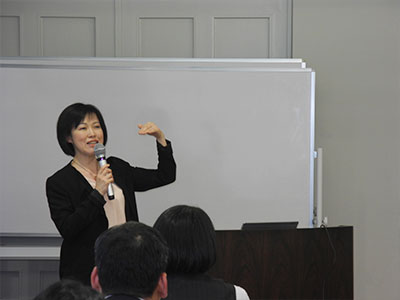 Executive Director Teirei Sohn, KITAYAMA NANZAN Inc.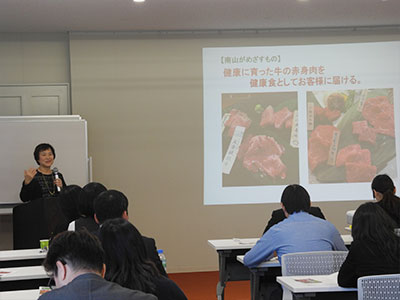 During the lecture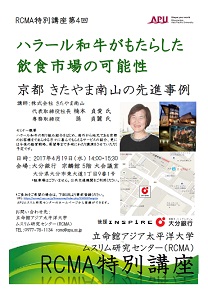 Poster for the 4th Special Lecture
[Report] RCMA Special Seminar & Interim Report
The Research Center for Muslim Affairs (RCMA) Special Lecture and RCMA research projects interim reports took place on Wednesday, June 8th. The event began with speeches by guests of honor from RCMA's sponsors; Mr Ryosuke Takatsuki, President & CEO, Inspire Corporation and Mr Keiichi Yamada, General Manager, International Business Office, Oita Bank. The first half of the event, the special lecture, attracted around 80 audience members from the hotel and restaurant industry in Beppu City. The latter half, the research presentations, attracted around 40 audience members, mostly students and faculty members.
In the first half, Ms Shiho Ikeuchi (Director, Overseas Marketing, Hotel Granvia Kyoto) delivered a special lecture entitled "Hotel Granvia Kyoto – Halal Service in the Hotel Industry." The Hotel Granvia Kyoto is the first hotel in western Japan to gain the official Local Halal certificate. In the lecture, Ms Ikeuchi spoke about basic knowledge of halal, expansion into the Islamic market, research on hotel and restaurants in Dubai and Malaysia for understanding Muslim culture, the Muslim-friendly 'omotenashi' service the Hotel Granvia Kyoto provides, and the process for the hotel to obtain the Halal certificate.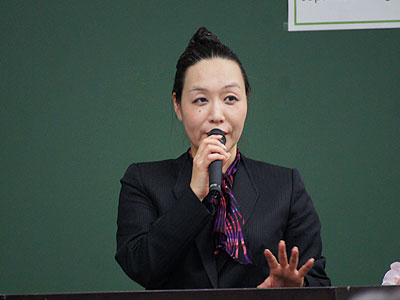 Hotel Granvia Kyoto, Overseas Marketing Director Shiho IKEUCHI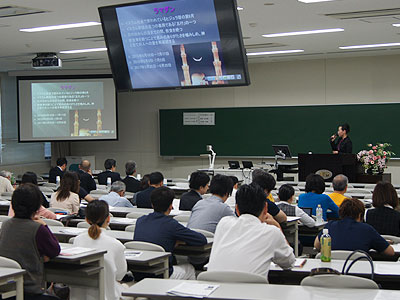 Special Seminar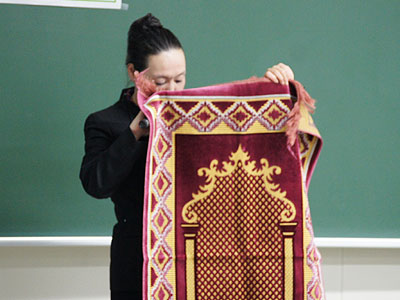 A Prayer Mat
In the latter half, APU faculty members presented interim reports on their Islam-related and/or Muslim-affairs research. Associate Professor Hirokuni Tateyama reported on their research "A Study of Support for Schoolchildren with Limited Japanese Language Proficiency", Professor Yasushi Suzuki reported on "Investigation on MusharakaCredit Risk Management in Indonesian Islamic Banks", Professor Barai Munim Kumar reported on "Islamic Microfinance as a Tool for Poverty Alleviation: The Case of Bangladesh and Indonesia", and Associate Professor Kim Rebecca ChungHee reported on "Exploration of a Social Enterprising Business Opportunity for the Creation of a Circular Economy through Cooperation with Muslim Society." After each presentation, many questions were asked by the audience.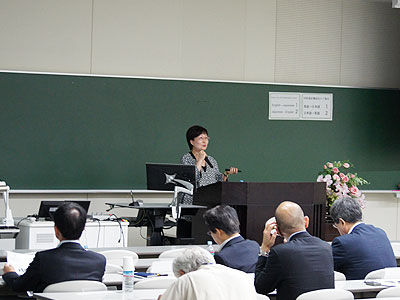 Interim Report, Associate Professor Kim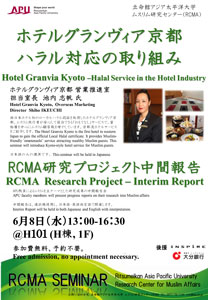 Seminar poster
[Report]The second RCMA Special Lecture
The second RCMA Special Lecture took place on Wednesday, December 9th at the Oita Bank Sorinkan in Oita City.
This lecture featured a speaker from Hitoyoshi, a town that has lead the nation in becoming Muslim friendly.
The speaker discussed measures for becoming Halal compliant even when starting from zero.

The 50 audience members in attendance came from both inside and outside Oita Prefecture and included students, businesspeople and the general public.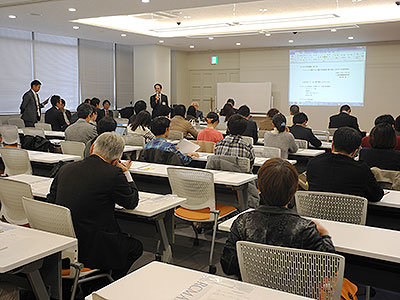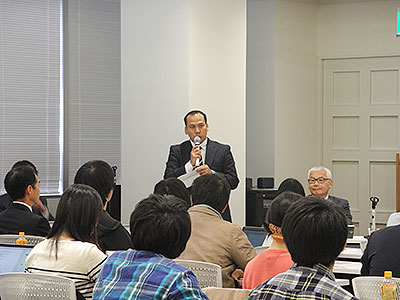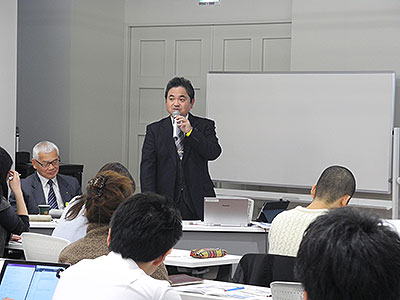 IMOTO Koji (Manager, Hitoyoshi Tourism Promotion Division)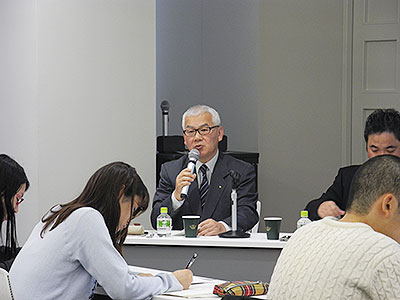 HAGIWARA Shinichi (Hitoyoshi Industrial Promotion Specialist)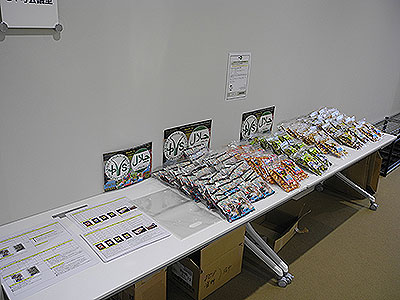 Halal arare (crackers) given to the attendees
Seminar poster
[Report] The first RCMA Special Lecture on Oct. 7
The first RCMA Special Lecture took place on Wednesday, October 7th. The special lecture aimed to deepen knowledge about Halal business and, to this end, featured two talks: one from Research Center for Muslim Affairs Director YAMAMOTO Susumu entitled "Muslim-Related Business and APU Research Center for Muslim Affairs Initiatives" and one from Deputy Center Director Nariman Dahlan entitled "Muslim Perspectives on Japan's Halal Product Development and Market Possibilities."
In addition to participants from inside and outside the university, there were also 35 participants from outside the prefecture.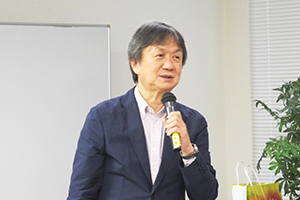 Research Center for Muslim Affairs Director YAMAMOTO Susumu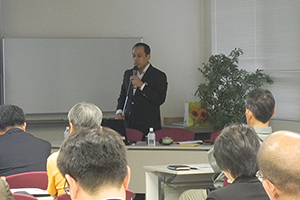 Deputy Center Director DAHLAN Nariman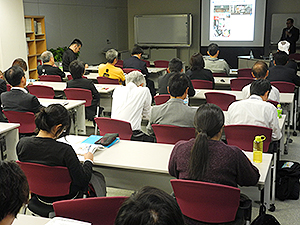 Kickoff Event Held for the Founding of the Research Center for Muslim Affairs!
On June 17, 2015, a kickoff event was held for the establishment of the Research Center for Muslim Affairs (RCMA) with over one hundred and twenty participants from around forty companies, organizations and municipalities.
The event opened with a spectacular performance of traditional "Saman dance" by students from Indonesia. To continue, congratulatory speeches were presented by Beppu City Mayor Yasuhiro Nagano and Takanori Achiwa, the General Manager of Corporate Banking Supporting Division at Oita Bank.
For the keynote address, President and CEO Takatsuki Ryosuke of Inspire Corporation presented a lecture titled, "Hospitality towards Muslim People-opportunities for the future" which discussed the current state of support for Muslims in Japan and the future growth potential of the inbound market.
Additionally, undergraduate student Arshad Azad (Sri Lanka) introduced the Muslim Friendly Project which is run by students in Beppu. Factory Manager Tomeo Sakai of Fundokin Shoyu Co.,Ltd. also presented a lecture on " History of Fundokin Shoyu Co.,Ltd. and Development of Halal Soy Sauce" which described their future halal soy sauce efforts based on actual examples of making soy sauce.
In conjunction with this kickoff event, faculty members introduced five research projects. Going forward, research projects will soon begin on the topics of "Industry-government/Industry-academia-government collaboration", "Searching for a Multi-Culture Society", and "International finance (Islamic finance)".

*Detailed 5 Research Projects here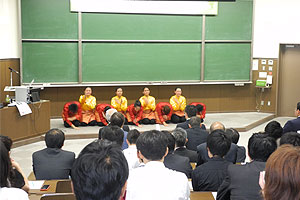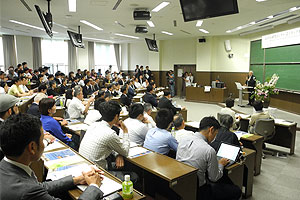 Following the conclusion of the event, a meeting was held to exchange information between the participating companies, organizations and APU faculty members.