On Friday, October 16, 2015, APU held its "APU Global Human Resources Development Seminar" targeted at alumni as well as businesspersons. On the day of the seminar, the proceedings began with an explanation by Pro Vice-President & Executive Dean YOKOYAMA Kenji on the global training programs such as the Competency Enhancement Program(GCEP) and the Japanese Education Program(JLEP).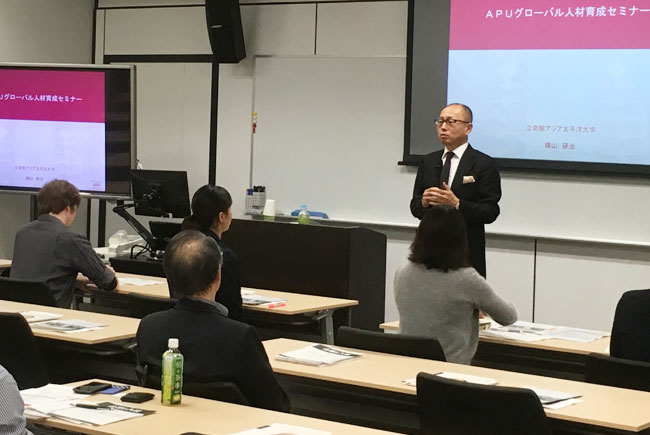 APU offers GCEP and JLEP for members of businesses and local government bodies as one of its initiatives to promote the Top Global University Project. Afterwards, Associate Professor of Collage of International Management KIM Rebecca ChungHee conducted a class in English on the theme "Global CSR and Asian CSR". This seminar is intended to provide basic knowledge regarding management studies to members of the workforce who are employed at businesses in the Kanto area and have an interest in an MBA. Twenty-eight businesspersons and alumni participated in the seminar.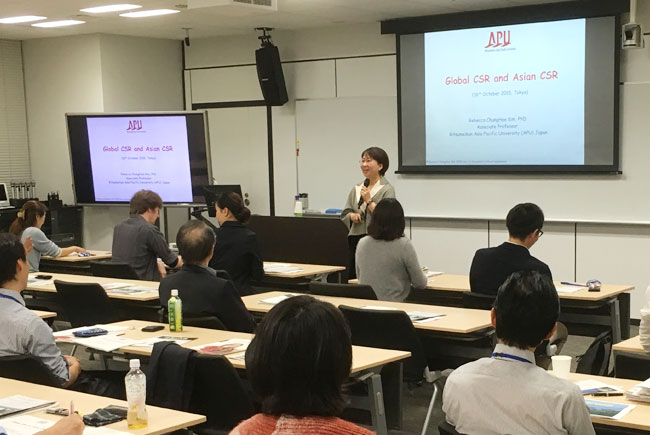 Close to twenty alumni and businesspersons also attended the networking social gathering that took place after the class. There, discussions took place on future expectations placed on APU and ideal ways to expand the global training program in a manner that takes advantage of alumni networks.