Mental Health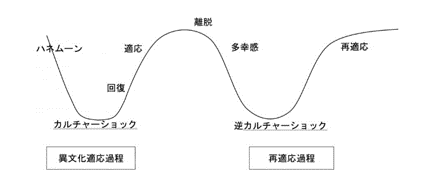 The internal changes people typically go through during the cultural adaptation process can be explained by the curved line in the graph above. There are four stages to the cultural adaptation process.
1.The Honeymoon Period: you are excited to be in a new environment.
2.Culture Shock: the differences between your own culture and the new culture start to bother you, and you feel confused.
3.Adjustment: although you're still aware of the cultural differences, little by little you start to adapt to the new culture, while still staying true to yourself.
4.Reverse Culture Shock: feelings of shock caused by the changes to your home culture that occurred while you were away, as well as by the changes you have undergone.
5.Readapting: you still reflect on your experiences abroad, but you form new relationships in your new environment, and you feel stable and secure.
People often experience changes to their mental and physical health during and after exchange. Most people go through the cultural adaptation process explained above.
Pay extra attention to your mental and physical state every day. If you notice any changes, try one of the tips below.
Tips for Dealing With Homesickness
・Go at a slower pace
・Take a break
・Set small, daily goals and focus on achieving them one by one
・Talk to someone who has similar experiences and can empathize with you (another exchange student, a senpai who has been on exchange, etc.)
・Get advice from someone you trust (a friend, an advisor, a counselor, etc.)
・Try expressing your feelings (cry, draw pictures, sing, etc.)
Instead of keeping your emotions to yourself, it's important to talk to family and friends and attend counseling.
APU Counseling Room
https://en.apu.ac.jp/studentsupport/counseling_room/