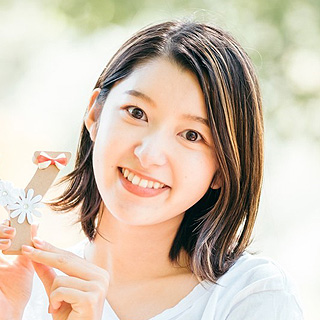 In the case of

WATANABE Yuzuki
Ms. Watanabe is a graduate of the College of Asia Pacific Studies in 2018, and is currently in charge of procedures and projects related to overseas sales of cosmetics at Kose Co., Ltd.'s Asia Division. She is working hard with her dream of trying product planning in the future.
he studied a slightly unusual field of criminology by studying abroad. Let's see what she thought, what preparations she had, and what she has experienced on site.
VIEW LEARNING MODEL
I wanted to try everything APU had to offer, starting with the FIRST Program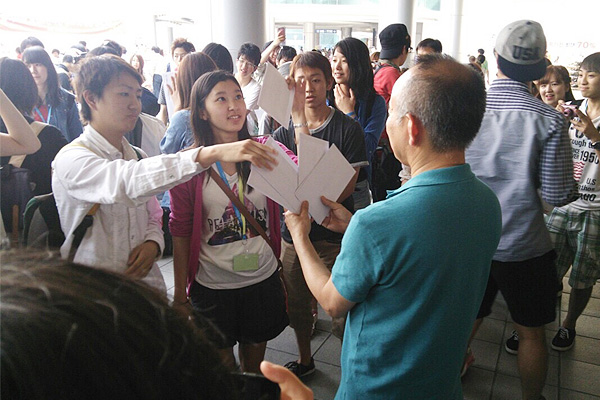 I wanted to try everything APU had to offer, starting with the FIRST Program
When I first came to APU, I knew I wanted to try many different things. There are many opportunities at APU, but I felt that if I missed the first chance to study abroad in my first year, I wouldn't be able to seize any future opportunities. So, I joined the FIRST Program and spent five days doing field work in Korea. All group members, including me, cannot speak Korean. Even so, We had to conduct a questionnaire survey with local people who can only speak Korean. Of course, fluent conversation in Korean was not possible, but even so, by making full use of all kinds of things such as gestures, English words, and illustrations, I was able to acquire the skills of international exchange that does not rely solely on language and the courage to work hard in any environment.
Clarifying goals to prepare for study abroad
Clarifying goals to prepare for study abroad
Because I was admitted to APU, I was certain I wanted to spend a year on exchange, so I joined the study abroad preparation course to put myself in an environment where students like me who were aiming to go on study abroad could help motivate each other. Naturally, I worked on improving my English skills, and we also went to Malaysia and Singapore on a short-term overseas training program. The best thing about the study abroad preparation course was that it made me think very carefully about why I wanted to study abroad and what I wanted to study at my host institution. Upon conducting a self-analysis, I realized that I've liked foreign crime shows since I was a child and that I was interested in studying about crime from an academic standpoint. I thought carefully about why I wanted to study abroad in terms of my interests and passions, and I spent several long nights at a family restaurant with a former participant reworking my application. In the end, I was accepted for an exchange program without a hitch.
* Currently, we do not offer study abroad preparation courses, but we do hold events related to study abroad and provide learning support such as SALC.
First experience of staying at an overseas university at a university in Malaysia and Singapore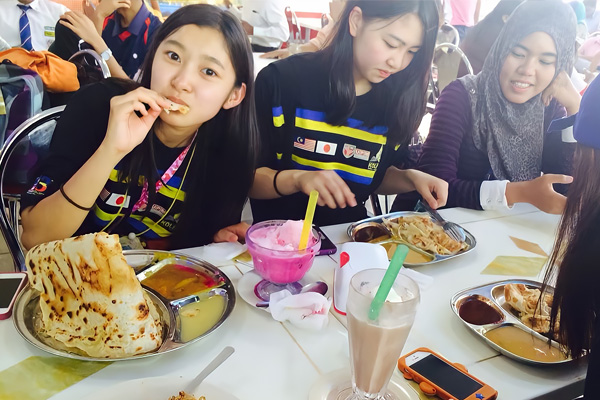 First experience of staying at an overseas university at a university in Malaysia and Singapore
As part of the study abroad preparation course, I stayed at a university in Malaysia for two weeks and a university in Singapore for one week during the summer vacation, and experienced exchanges with local students and mock classes. By interacting with local students, I learned about cross-cultural communication, and I felt a little closer to the exchange program I was aiming for. Also, unlike just traveling abroad, I lived in a dormitory at a local university, so I was able to get a better experience with the culture of that country. (I still remember taking a shower with water and using water instead of paper in the bathroom in Malaysia.)
Exchange to the US: Choosing a destination for an academic program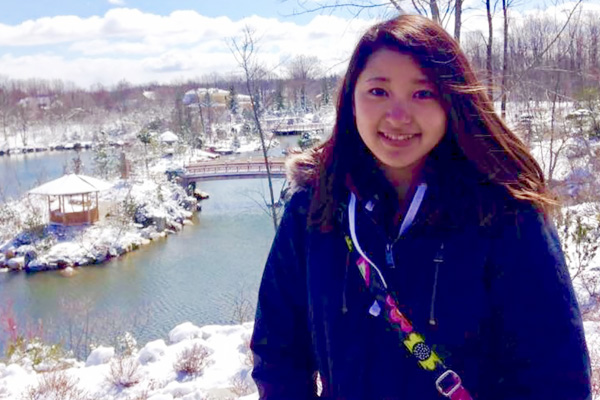 Exchange to the US: Choosing a destination for an academic program
I chose Grand Valley State University in Michigan in the United States as the destination for my exchange program because there were many faculty there who taught criminal justice as well as classes taught by police, juvenile detention center officials, and other professionals. I was the only Japanese person among my classmates, many of whom wanted to work for the FBI and CIA. I didn't have much background knowledge in criminal justice, so pursuing specialized studies in English was hard. This is when I started to realize what I wanted to do was keep children from getting involved in crime, and I felt the key here was to strengthen ties between parents and children. Instead of becoming directly involved as a social worker, I came to see my goal was to prevent children from committing crimes indirectly by working for a manufacturer that produces goods to improve people's quality of life.
Expressing my true aspirations thanks to APU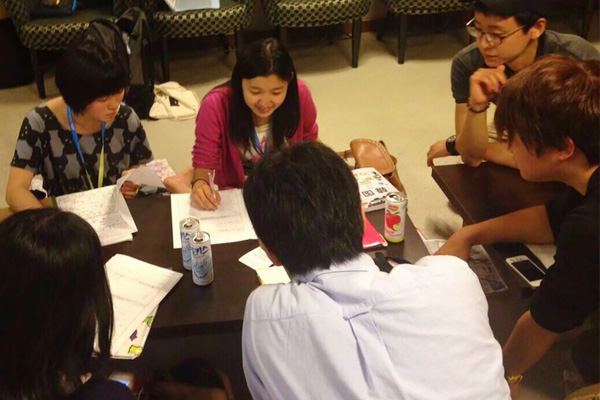 Expressing my true aspirations thanks to APU
Until high school, I worried about what others thought and I was not able to easily express my true feelings. However, at APU with all of its diversity, I learned to accept people's opinions even if they were different from my own and to voice my own opinions without hesitation, even if I thought they might be a bit different. My desire to study criminal justice may have been seen as a bit unique anywhere else in Japan, but by coming to APU, I was able to honestly express this desire for the first time. APU has many different off-campus study programs with different aims and varying lengths. When you realize there is something you want to do, I think you can find a program that more or less suits your needs. If you always keep in mind what you want to do, then I think you will be able to take advantage of the opportunities when they present themselves.
Helping younger students on the study abroad preparation course and SEA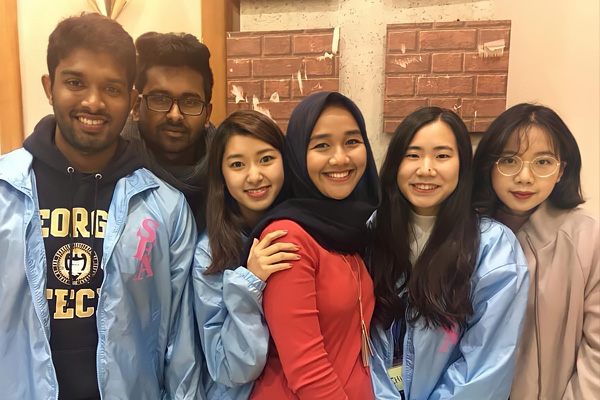 Helping younger students on the study abroad preparation course and SEA
I focused my energies on helping younger students who wanted to put their experiences to the test on an exchange program but are not sure how to go about doing that. Some students thought that going abroad to study English in their first year counts as exchange, but the real objective of exchange is not to learn English, but to use your English skills to learn something. You have to think about what you can learn at your host institution and how you can put that to use for your future. When students told me they didn't know what they wanted to do in the future, I discussed my own experiences, and I helped them reflect on what they liked and what interested them. When they couldn't do it on their own, I helped them dig down and find that dream for the future that was buried deep in their hearts. I also wanted to make APU a better place since it had provided me with so many experiences over the past four years. By helping underclassmen, I gived something back to APU and to the older students who helped me.
Postgraduate studies and career
Having studied criminology while studying abroad, I began to want to work for a manufacturer that makes products that improve people's quality of life. I also considered how to do job hunting, but I did all the job hunting by on-campus recruiting. With on-campus recruiting, companies that "want APU students" will gather. I had a lot of experience unique to APU, so I thought that there would be few mismatches with the companies that come there. As a result, I was hired as a sales position at Teijin Limited, which has the philosophy of improving quality of life. It was the first time for a female new graduate employee to be assigned to the sales position at the business unit to which I belonged. Also, many of the employees around me were veteran science employees, so I was a very unusual person as new graduates, females, and liberal arts. However, since I have always experienced cross-cultural exchange through APU's Off-campus Study Programs and On-campus activities, I could think of it as a "kind of new environment", and I could quickly become familiar with it.
While working at the B-to-B manufacturer, I have the feelings of "I want to handle products that are directly related to people around the world" and "I want to create a world where each person can shine regardless of gender or other categories." Then, in the summer of my fourth year, I changed jobs to Kose Co., Ltd., a B-to-C cosmetics manufacturer. When I was in the 4th year of APU, I had the experience of helping Kose internships for African students, and that was the trigger that led me to change jobs. The number of APU graduates in Kose is increasing year by year, and I have understood that they are focusing not only on overseas expansion of our business but also on globalization within the company. Currently, I am working for the Asian region. I work with a local subsidiary on a daily basis, and the experience of APU is also utilized there. After experiencing overseas expatriates someday, I would like to bring to the world products that can make the most of the original brilliance of each person by launching a brand targeting overseas.
Message to junior students
There are various opportunities in APU. And if you don't have it, you can even create it yourself. I now feel that it was really valuable to be able to choose what to do in that environment ourselves. Personally, I think it's good to participate in many programs to expand your network and experience, but I also think that the number of times is not the only thing. I think it is very important not just to participate in the program, but to participate with a purpose, looking back on what you have learned and what you have experienced.
I mentioned above that I participated in various programs, but I also had many experiences where I couldn't participate even though I wanted to do it because I was not selected by the program. In fact, I have failed in various program, such as a certain Off-campus Study program, Japanese language supporters, and overseas internships. I was very sad at that time, and I wasn't sure why I failed, but I believed that failing would be a catalyst for growth, so I thought about the reason for failing and sometimes went to ask why. By doing so, I was able to find out what I lacked and lead to the next experience.
Again, there are really many opportunities for APU. It's up to you to choose or not, so please enjoy your life and make choices that will lead to the future. I support you from somewhere on the earth!
CLOSE