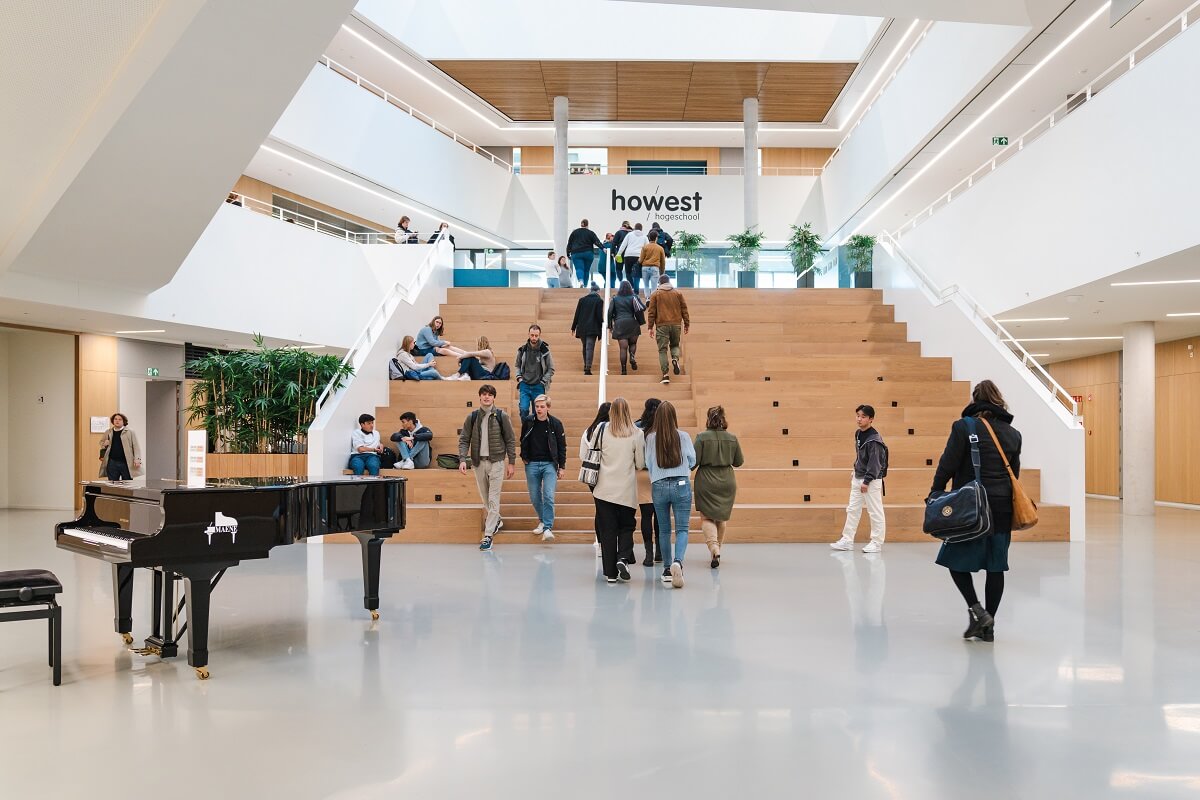 The copyright of this photo belongs to the partner university. Unauthorized reproduction or secondary use of images is prohibited.
Howest University of Applied Sciences
Application Requirements
| GPA | IELTS | TOEFL iBT | TOEFL ITP |
| --- | --- | --- | --- |
| 2.00 | 5.5 | 79 | - |
Academic Fields
Management
Media Studies
Tourism
Programs Available
Our campuses are located in the historical cities of Bruges (Brugge UNESCO World heritage) and Kortrijk (Kortrijk UNESCO Creative Design City), in Flanders, Belgium. Studying in Bruges or Kortrijk includes having a series of very attractive locations nearby: the two Howest cities are only half an hour away from Ypres, with its impressive commemoration sites of World War I, including the Flanders Fields museum and the other Flemish art cities like Antwerp, Ghent, Brussels are only a short train ride away, and our international students love to spend their weekends visiting those. Not to mention that we are also very close and well connected by train to Paris, Amsterdam, Cologne, etc. as Belgium is located in the heart of Europe.
Howest is an entrepreneurial University of Applied Sciences known for its innovative and interdisciplinary approach to education and research, and its close collaboration with industry, business and the social profit sector.
We offer 25 Bachelors, 12 Associate Degrees and many Postgraduate Certificate programmes, all with a strong practical focus, in the areas of Business & Management, Industrial Sciences & Technology, Digital Design, Architecture, Healthcare, Education and Social Sciences. Howest is a member of Ghent University Association, which provides high-quality higher education to about 1/3 of Flanders' student population. All our programmes are fully accredited by NVAO, the Dutch-Flemish Accreditation Organisation.
We constantly develop our course offer in English in order to position Howest as an attractive academic choice for students from abroad. At present, we have 33 programmes for English-speaking students available, ranging from full bachelor's degrees to English-taught semesters to postgraduate certificates. We warmly welcome degree-seeking students as well as semester-exchange students from our Erasmus and overseas partner universities.
Howest continuously adapts its curricula to include new areas of knowledge and to put the latest research into practice.  Creativity and entrepreneurship are part of the Howest DNA.  Field-driven assignments and on-the-job training are key components of each programme. That is how we meet the changing needs of today's society and arm our students with future-proof skills.  
Committed and supportive lecturers embody Howest's core values "serve - empower - care" which stimulate an open, pluralistic and international outlook on education, research and service to society.