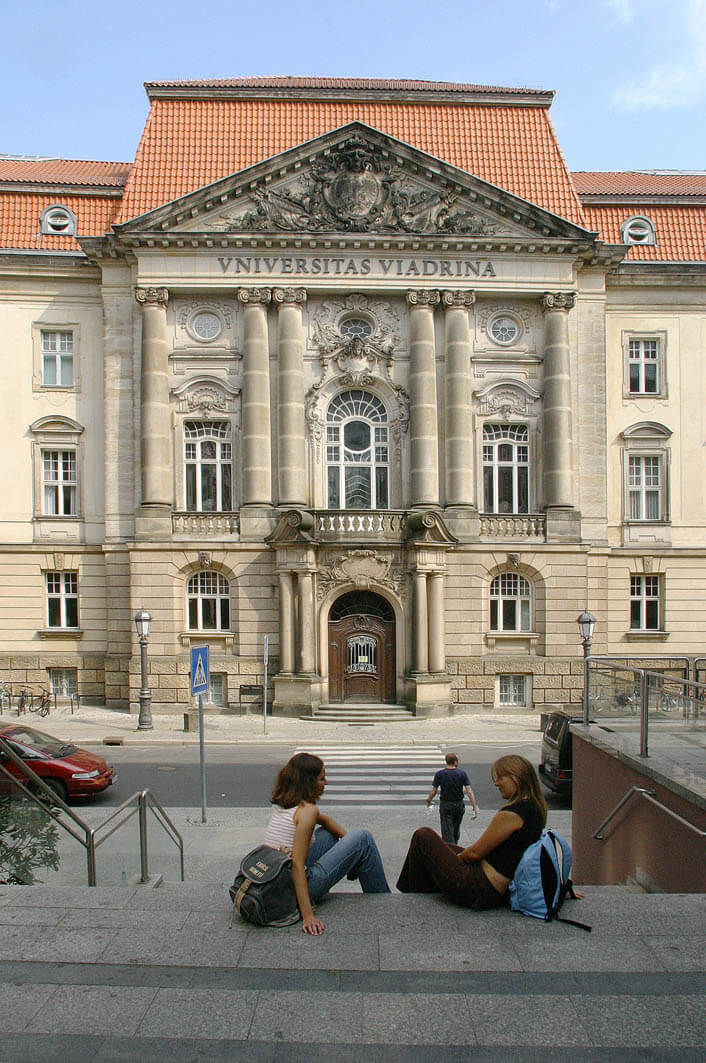 The copyright of this photo belongs to the partner university. Unauthorized reproduction or secondary use of images is prohibited.
European University Viadrina Frankfurt (Oder)
Application Requirements
| GPA | IELTS | TOEFL ibt | TOEFL ITP |
| --- | --- | --- | --- |
| 2.00 | 5.5 | 72 | 543 |
Academic Fields
Accounting
Business Administration
Economics
Finance
Management
Marketing
Cultural Studies
Development Studies
International Relations
Media Studies
Peace Studies
Political Science
Sociology
Programs Available
Frankfurt (Oder) lies in the heart of Europe on the river Oder and directly on the border with Poland, about 1 hour away of the German capital Berlin. Frankfurt (Oder) has approximately 64,500 residents.
Take a walk along the river Oder and enjoy the view across the river to Germany's neighbour, Poland. Just behind the university facilities lies the island Ziegenwerder with its lovely pathways. Leave the island and walk towards the city bridge which connects the two countries and which is an important point of the border. If you wish, you can cross the bridge and visit the Polish town of Słubice.
10 good reasons why to study at Viadrina
1. Internationality: Study with students from over 80 countries and be taught by academics from all over the world
2. Interdisciplinary in teaching and research: Choose from a wide range of classes within all faculties: Law, Economics and Business Administration as well as Social and Cultural Sciences
3. Foreign Language Competence: In addition to your regular studies take advantage of foreign language classes of the highest quality
4. Study and Internships Abroad: Benefit from an extensive network with more than 200 cooperation partners worldwide
5. Qualify for a future Europe: Obtain an internationally acknowledged university degree and be prepared for the European job market
6. Affordable Studies: Profit from a broad variety of student loans as well as cheap housing and low living costs
7. Outstanding Study Conditions: Take advantage of the low student-teacher ratio which enables you to complete your studies in a short period of time
8. Excellent Research Possibilities: Modern equipped library, computer terminals, wireless internet access on campus…
9. Cross-Border Education: Attend lectures and workshops in the Collegium Polonicum, an institution run by both the Viadrina and the Adam-Mickiewicz University in Poznań on the Polish side of the river
10. International Housing: Live in residences on the German and Polish side of the river