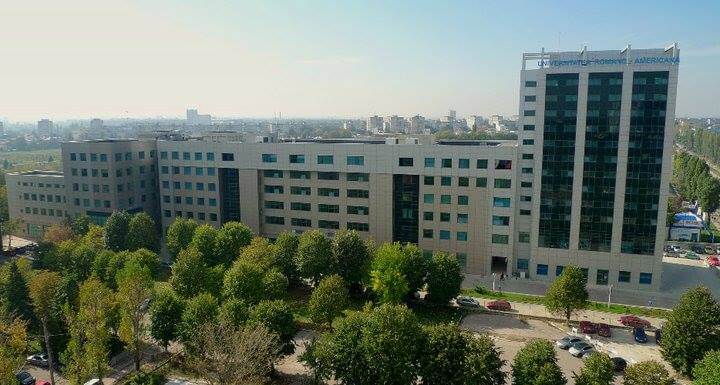 The copyright of this photo belongs to the partner university. Unauthorized reproduction or secondary use of images is prohibited.
Romanian-American University
Application Requirements
| GPA | IELTS | TOEFL iBT | TOEFL ITP |
| --- | --- | --- | --- |
| 2.00 | 5.5 | 65 | - |
Academic Fields
Business Administration
Finance
Marketing
Management
International Relations
Hospitality
Tourism
Programs Available
Romania has many tourist destination cities like Cluj, Brasov, Timisoara, Sibiu. Furthermore, there are many parks and cultural attractions in Bucharest and nearby the University.
The mission of the Romanian-American University consists in education, teaching, scientific research and innovation, the cultivation of scientific values and of universal culture in general.
Through its mission, the university means to contribute to:
・The promotion of excellence in education, scientific research, innovation and technological transfer, as well as of professional, moral and social responsibility and of creativity in the fields of competence;
・The treasuring and promotion of values of national and universal culture and civilization
・The defense of an academic democratic framework based on university autonomy and respect for the law, on the fundamental human rights and liberties in the state of law.
According to the Charta, the fulfilment of the mission of the Romanian-American University may be achieved through:
・The formation of specialists with superior training in the fundamental fields of science in which the university organizes bachelor, master and doctoral studies programs, which are authorized or accredited according to the law;
・Carrying out specific fundamental scientific research and applicative activities, through the specialized departments, centers and research laboratories as well as other organization bodies;
・Entrepreneurial activities which comprise consultancy programs, specialized assistance, business incubators etc.;
・The affirmation of academic/didactic and scientific achievements of community members through participation in reunions, scientific events etc. organized at national and international levels;
・Ongoing learning through post-academic studies, trainings, etc.;
・Professional formation through education programs carried out in Romanian or in widely used international languages and mobility programs, in agreement with the law.